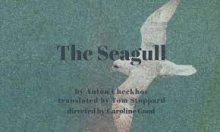 From April 20-23, the DePauw Theater Department breathed life into the romantic melodrama "The Seagull," Tom Stoppard's version of the original 1895 play written by Russian dramatist Anton Chekhov. Portraying a complex narrative about the ambitious journey of writers and actresses riddled with tangled romances, the production captured the hearts of audiences at the Moore Theater in the Green Center of Performing Arts.
Set in a 19th century rural estate in the Russian countryside, the stage play introduces viewers to the theatrical world of Konstantin, played by sophomore Griffin Chyall' 25, an idealistic young playwright who wants to challenge the conventions of modern theater; and his love interest Nina, played by sophomore Jenna Reynolds' 25, an aspiring actress raised by a neglectful family. Their innocence is tainted by the twisted views of Arkadina, played by sophomore Kelli O'Neill, Konstantin's pretentious mother who is well-recognized in the Russian theater industry; and Trigorin, played by first-year Cameron Foster, an established fiction writer presented as Arkadina's lover.
The artistic lives of these four pivotal characters are intertwined throughout the story, such as the evident juxtaposition between Konstantin's ambitious spirit, as he is imprisoned by the harsh reality of the writing industry while surrendering to his unrequited love for Nina; and Trigorin's pessimistic nature, as he suffers the emptiness of his worldwide recognition while dangling the fragile hearts of Nina and Arkadina within his own fingers. Meanwhile, the broken family dynamics of the two young protagonists influence their literary endeavors, as Nina's poverty-stricken background draws her toward theatrical fame and recognition, while the judgmental remarks of Konstantin's mother leads to his hunger for approval and validation.
As a two-time viewer of the stage play, I found myself in tears by the end of each production, struck by Konstantin's tragic fate as both a hopeless romantic and a passionate writer. The literary references also lit a fuse in my mind, as the echoing detail of Konstantin's gun helped me understand the origin of the term "Chekhov's gun," a terminology commonly discussed in writing classes which emphasizes how every narrative element must have a purpose in a story. Furthermore, I was fascinated by the metaphor of the seagull, which I perceived as a representation of the youthfulness that Trigorin stole from Konstantin, as the latter succumbs to his endless passion for theater and unrequited love for Nina.
Aside from the play's literary complexity, viewers were undoubtedly captivated by the little snippets that added a burst of color to each character on stage. These included the thunderous snores of Uncle Sorin (played by sophomore Eli Widmer), the quirky yet persistent service of Medvedenko (played by first-year Nam Nguyen), the poignant emotions concealed by Masha (played by first-year Lilly VanHouten), and the furious flower-stepping sequence of Polina (played by first-year Tanaa Jones).
Moreover, during my second viewing, I had the opportunity to talk to Caroline and Fiona Good, the mother-daughter duo who played significant roles for the production's success.
Fiona, who was a costume construction crew member, elaborated on their team's workflow. "It was really fun! I learned a lot—I learned how to sew button holes, which is actually pretty easy once you figure it out," she said. "[For the play,] I think it's very interesting to watch it come together piece by piece and seeing the whole thing come together at the end. [I find] it really satisfying."
On the other hand, Caroline described how she ensured the improvement of actors and actresses while directing the production's four-day run. "[It involved] lots of watching very closely, observing every tiny little nuance, and giving notes after notes after notes. A lot of the time they're adding their own creativity too! There's just a lot of tiny little moments that need to be isolated, since timing needs to be perfected here and there."
She also highlighted the collaborative process while working with the cast.
"Every note I've given [to the cast], every suggestion I've made, they always executed it beautifully. It's been a treasure working with them all, because they're all talented and gifted and creative," Caroline said.
As a writer myself who developed a deeper appreciation for theater, along with fellow viewers who struggled to wipe away their tears at the end of the show, "The Seagull" has left a beautiful mark on students of all backgrounds from the DePauw community. As Caroline highlighted about her directed play: "It comments so much on the things that [students are] constantly doing everyday—they're doing art, they're doing theater, and they're writing. To see this kind of perspective on art [is fascinating,] which Chekhov really examines closely in so many different ways. You have all the characters coming from different critical perspectives on different forms of art."
Through its intricate storytelling, the stage play has undoubtedly inspired young minds to explore their creative pursuits amidst the melodramatic nuances of life.