Philosopher George Santayana once said: "Those who cannot remember the past are condemned to repeat it." Learning about history and its intricacies is crucial,...
Men's Basketball hosted their home opener in Neal Fieldhouse on Wednesday, November 6th, where they kicked off their season against the Anderson Ravens, losing...
Editor's Note: This press release was written and submitted by Executive Director of the Putnam County Museum, Lisa Harris Mock. She shared with The DePauw that DePauw...
This autumn, I found myself setting an impromptu goal: to consume as much Neil Gaiman content as possible. Truthfully, I've never watched or read...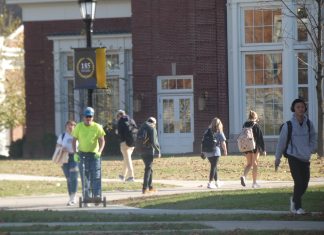 I want to begin by saying I love DePauw. I am writing today because of how much this university means to me. DePauw bills itself on being the liberal arts experience. I chose DePauw because of its unique programs, educational opportunities, and its commitment to being a home for...