DePauw's Dharma club is a celebration of all South Asian communities through exploring their culture and festivals. The club serves as a haven for...
The Tigers took on the Battling Bishops at home this past weekend. DePauw took an early lead, scoring their first touchdown only one minute...
Additional "hidden" fees in academic materials such as textbooks, software subscriptions, and laboratory instruments have always been a great concern of students, especially with...
What better way to start off your fall than with some live jazz music? Jazz at the Duck, hosted at The Fluttering Duck inside...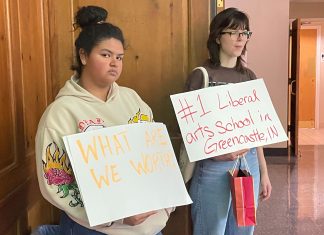 Students from the Posse Scholar Program were invited to attend a forum from 5 to 6 p.m. on May 17th. This forum followed DePauw's "University Update" email sent at 2:05 p.m. on May 17th, detailing the end of the New York Posse program. The "University Update" email, which was released...