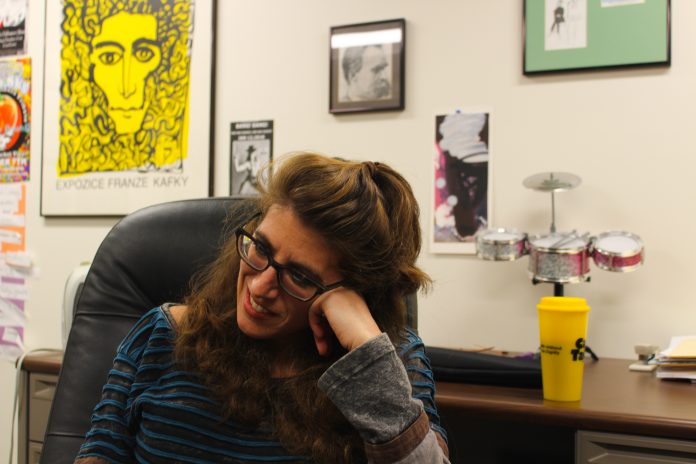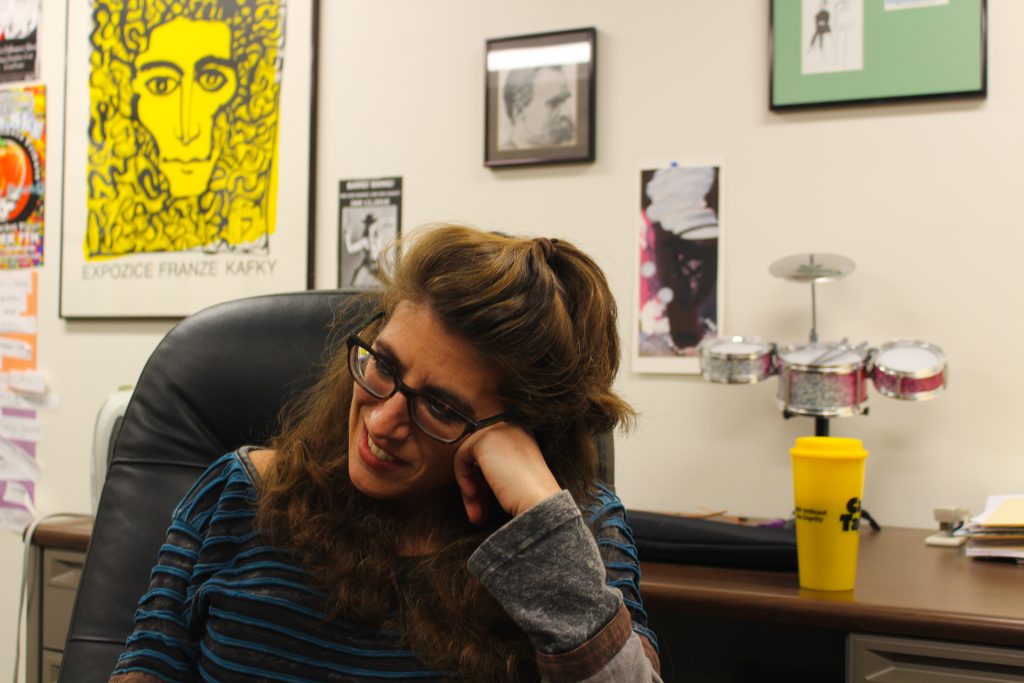 When you walk into Beth Benedix's office you are sure to notice the sticker on her door that says, "Eve was Framed," the Franz Kafka posters above her head, and the incense burning on her desk, making her office homey.
A homey office is perfectly fitting for Benedix because she works to create homes and communities that are just as comforting as her own space. "For me, nothing is worth it unless it means something to people," Benedix said. "And what means the most to me, and to the people I care most about is community; making your community a place that feels like home and doing whatever you can to make that place wonderful."
Benedix considers creating communities for other people a large part of her job as a professor of World Literature, Religious Studies, and Community Engagement. She founded and coordinates the Castle workshops, developed by DePauw professors, students, and groups which are then taught in Greencastle schools. "Part of my position here is to make those connections [in the community] stronger," Benedix said.
Benedix also believes her community engagement work gives helps her construct her classes. "For your whole life, the things that you're learning should matter. They should truly matter to you and you should see the relevance in what you're doing," she said. "There needs to be some way in which what we're doing in the classroom connects to where people see their journeys going in life."
The more time you spend in Benedix's office the more you'll notice the other parts of her life that are present in the room as well. Benedix has a small drum set on her desk that meets her eye-level whenever sitting down. In addition to teaching, Benedix is also an avid musician and artist. She plays piano, drums, flute, and guitar, and plays in two different bands in the community.
Benedix started on the drums about five years ago because of a drum circle for the Castle workshop. And now she plays in a group called ZooSouL, which has drum circles within the community. Additionally, Benedix plays piano in a group called Black Market Vinyl. She joined the group of family musicians by asking if they needed a piano player.

Benedix feels deep connections within her music communities. "When I think more about the kind of spaces I want to be in or the kind of experiences that I would want to have as a human, music is such an important piece of that because it's non-verbal," Benedix said, "It happens on this level of deep connection where you're all part of this thing you're creating together."