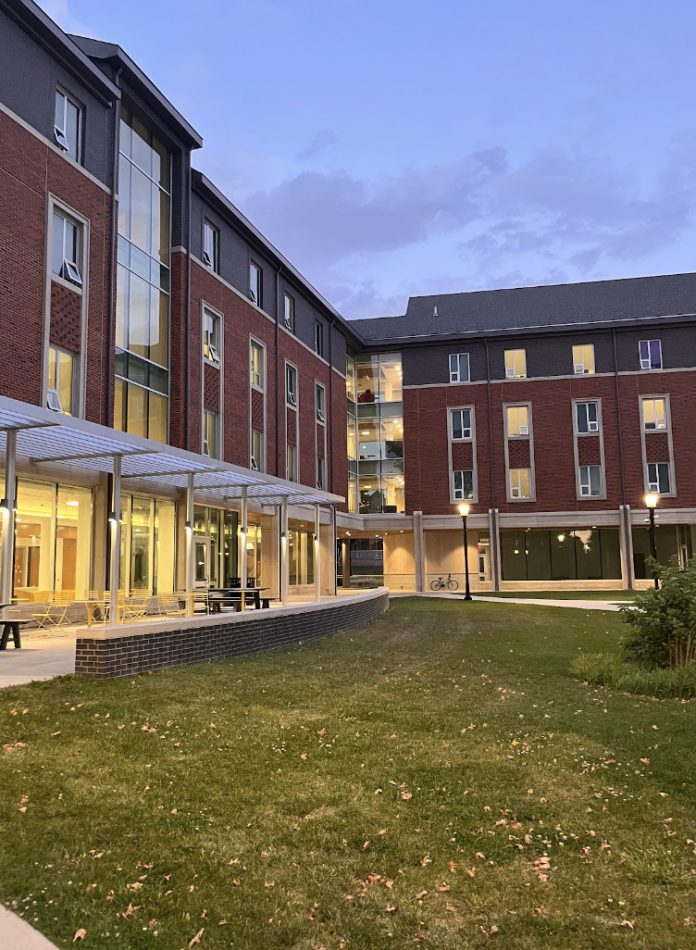 Across campus, first-year students live in a variety of housing options. With each residence hall having its own unique characteristics, first-years all have a different community and living experience. Students from all of the first-year residence halls shared their perspectives.
Bishop Roberts Hall
Built in 1961, Bishop Roberts currently houses about 140 first-years on four floors. With predominantly double rooms, this hall also has three and four-person rooms. Amenities of the residence hall include a TV lounge, game room, laundry room, shared kitchen, elevator, and air conditioning and heating. The residence hall also has a study lounge on each floor as well as one men's and one women's restroom. The two single-gender floors both contain their own restroom. Like every residence hall for first-year students, each floor has one or two Resident Assistants to help with the transition.
First-year Jacob Dane shared his perspective on Bishop Roberts Hall.
"Our room works fine. There are really no problems. However, there is a bush in front of our window that blocks off the sunlight, which is not great. We have our beds pushed to one side and our desks underneath," Dane said.
"The bathrooms are fine. There is nothing really wrong with them, it is just an old bathroom. The laundry room is nice, a lot of the machines are newer. I have never had a problem with them," Dane added.
According to Dane, the common areas are the main attraction for first-year students, particularly the pool table. Dane said he still enjoys the amenities of Bishop Roberts despite them being slightly old and beaten up.
"My favorite part of my residence hall is that I can always find someone I know in the basement. It's fun to just sit and chill with whoever is down there," Dane said.
Longden Hall
Built in 1927, Longden Hall houses around 110 students on three floors. This hall has double and triple rooms. Amenities of this residence hall include a TV lounge, laundry facilities, shared kitchen, elevator, and air-conditioning and heating. Each floor of Longden has a study lounge for students. Longden Hall also has a large basement game room space. The residence hall also has a study lounge on each floor as well as one men's and one women's restroom.
Elijah VanHaaren, first-year student, commented on his living experience in Longden Hall.
"Our room is nice, large, and provides a quality living setting. It is set up to maximize floor space. The bathroom is nothing fancy but provides the necessities. It is cleaned regularly which is nice. The laundry room is quite small considering the number of people in the hall. It is difficult to find a time to use them since all or most of all the utilities are being used," VanHaaren said.
While the laundry situation presents some challenges, VanHaaren elaborated on his favorite part of Longden Hall: the game room.
"This is probably my favorite thing about the residence hall because the basement has a nice pool table, foosball table, and other fun games," VanHaaren said.
VanHaaren commented on how his room can sometimes get a bit hot, but he expects the room to cool down as winter approaches. Overall, VanHaaren thinks Longden is a good dorm.
Humbert Hall
Built in 1989, Humbert Hall houses approximately 130 first-year students on three floors. These rooms are all for two students each. The first floor of this residence hall has two lounges, a kitchen, a game room, and two study rooms. Each floor has a recycling area and an area to do dishes, as well as two lounges students can use. Like Longden and Bishop Roberts, Humbert Hall has an elevator as well as air conditioning.
First-year Jonah Reichenbach elaborated on his experience living in Humbert Hall.
"Both me and my roommate have our beds lofted in order to have a little more space for things in the room. My dresser is to the side of my bed and my desktop computer and desk are both under the bed since it is lofted. Both of our closets are on the front wall, next to the door of our room. There isn't tons of space, but it's sufficient for what we are using it for," Reichenbach said.
The bathrooms aren't Reichenbach's favorite. With two bathrooms per floor, each bathroom has two showers, two bathroom stalls, and two sinks. The bathrooms also have one tub which, according to Reichenbach, no one uses.
"[The bathrooms] are cleaned daily, but because of use, they can sometimes get a little dirty and some of the facilities break down on occasion," Reichenbach said.
Reichenbach elaborated upon the laundry situation in Humbert Hall.
"As far as the laundry room goes, there are six washers and eight dryers. Just last week, three of the six washers were out of order, so it was really hard to find a time to do laundry, and some of the dryers function poorly as well, especially with larger loads," Reichenbach said.
While the laundry room and bathroom aren't Reichenbach's favorite, he said the common areas are fairly nice.
"All of the furniture is clean and the space is pretty quiet most of the time. There have not been many games or activities in the common area since orientation week. There is a game room and a kitchen, though neither are well kept, and there is a community playstation hooked up to a TV in the common area that someone is often using," Reichenbach said.
Lucy Rowland Hall
Lucy Rowland Hall is the only residence hall not located in the South Quad, but rather Ubben Quad. Rooms are either single, double, or triple. Home to both first-years this year and sophomores originally, this residence hall hosts a hundred students. The hall also has ornate woodwork in the lobby dating from 1926.
First-year Eric Herrera lives in a single room in Lucy Rowland Hall and shared his living experience.
"I would describe my dorm room as spacious even though it's only a single room. There is a closet on the left hand side when you enter and a window centered in the middle of the room. I decided to place my bed on the left side of the room so that I could have more space for my desk," Herrera said.
While Herrera says the bathrooms are fairly small compared to those in other dorms, the laundry room is the complete opposite with 15 washers and 12 dryers.
"The common areas are pretty plain with each containing a TV and a few chairs. As for games, the basement has a ping pong table, pool table, as well as a PS4," Herrera said.
Herrera wishes that the bathrooms had more showers and space, but overall Herrera really enjoys Lucy Rowland Hall.
Vernon E. Jordan Jr. Hall
The newest dorm at DePauw, Vernon E. Jordan Jr. Hall is home to about 146 first-year students. The rooms are predominantly for two students, with a few single dorms. The dorm includes a community-living space, a lounge, a kitchen and study spaces on each floor. Alongside a robust shared kitchen space, Jordan Hall also has an outdoor seating space overlooking a campus green space. Each floor has a common area equipped with a shared kitchenette as well as a study and socializing lounge.
First-year student Raiden Miyamoto lives in the newest residence hall. His experience with the dorm has been mostly positive.
"Room is spacious and very comfortable. Set up pretty much split in the middle between me and my roommate. The laundry room is great. If you go at the right times, you can always find a machine. Common areas are always full of people hanging out, playing video games, watching movies or sports, or studying together," Miyamoto said.
Miyamoto commented on how his favorite part of his dorm is how it feels like an apartment. On the other hand, Miyamoto says having to use the key card has gotten him locked out of his residence wing a few times.
"The most unique part of Jordan is that we have a trash chute so we don't have to bring our stuff to the dumpster which is very nice, especially from the fourth floor," Miyamoto said.