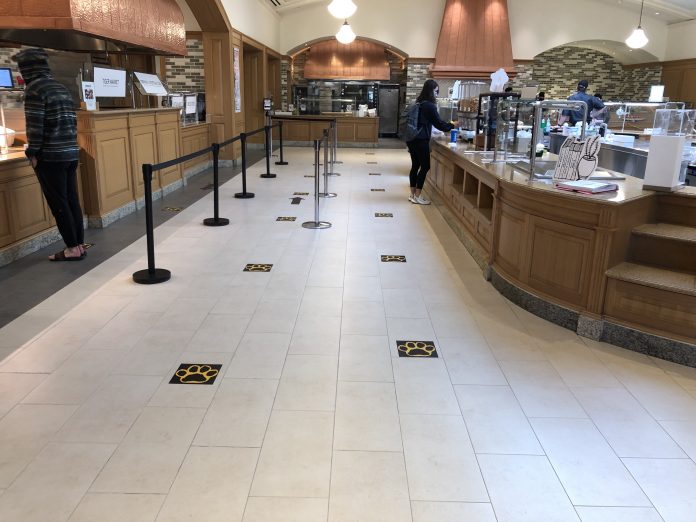 Despite decreasing its seating capacity from 500 to 118, Hoover Hall has been open for service since the start of the Spring semester.
As the university's sole dining hall, Hoover has had to radically adapt to COVID-19 precautions in order to keep students and faculty fed while staying safe. DePauw University Dining, run by Bon Appétit Management Company, has been in charge of overseeing the changes in service throughout the pandemic.
John Hecko, general manager at Bon Appétit, has been spearheading safety adaptations since the start of the Fall semester.
"The main challenge has been rethinking the space to create a safe and socially distanced work environment for our staff and for our customers," Hecko said.
DePauw Dining Services has also added online ordering options for both Hoover and the C-Store, offering to-go meals and providing food for students in quarantine and isolation.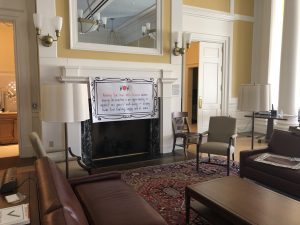 To accommodate for distancing guidelines, seating has been rearranged and limited, and the mezzanine has been reserved for staff. Additionally, the serving area has stickers indicating proper distancing, and food is served by staff members behind glass shields.
Sanitization has also greatly increased and employees receive daily health screenings as well.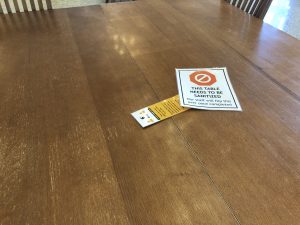 Laura Fornari, the executive chef for DePauw University Dining, was not too shocked by this semester's accommodations.
"It's been an easier transition than I thought, challenging as far as to-go boxes and maintaining quality, but we've been able to do the same thing with the menus and the students seem to be responding well to it and the things we've been able to do," Fornari said.
Junior Callaway Bird eats most of his meals at Hoover with the cross country team and has appreciated the accommodations.
"Given the circumstances, I couldn't be happier. I really enjoy Hoover, it's the best place on campus," Bird said.
Senior Genevieve Miedema has also appreciated Hoover's efforts. "It's definitely a lot of waste, but in terms of COVID-19 safety it's really awesome and I've been really grateful I can at least come sit in here with my friends," Miedema said.
Despite the increased waste added by disposable containers and cutlery, DePauw University Dining has tried to continue practicing their commitment to sustainability by maintaining relationships with local farmers.
"Early in the pandemic, we worked with the university to continue the practice of purchasing local. We never wanted our farm to fork partners to fail because we chose to go down another road, as they rely heavily on us. We have maintained a 52% farm to fork usage this past year and continue to be very proud of these relationships," Hecko said in an email.
Hecko also hopes to bring back some form of the Green Box Program and real silverware for in-person dining in the near future.
In addition to improving sustainability, future updates to DePauw Dining options include opening Blend later this semester. Café Allegro, however, will not open due to COVID-19 complications.
"One thing I am working on right now with Alan Hill and Student Academic Life is to create a table where we can offer free coffee at the times at which Hoover is closed," Hecko said.
If the university is able to pay for the proposal, coffee would be available in the foyer for students in between serving periods.
Along with the lack of coffee shops on campus, some students wish Hoover had more options.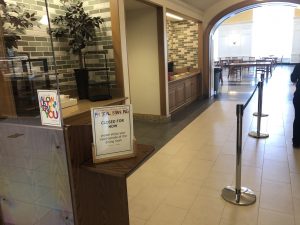 "One word to describe it is inconsistent," sophomore Garret Elkins said. He especially misses the lack of late night dining. "I don't see any reason to not bring that back, especially this semester."
"I only come for dinner normally, and being a vegetarian, there's not many options unless the international station is open," junior Abby Downs said.
While the changes in university dining have certainly come with challenges, Hecko and DePauw University Dining services remain optimistic about keeping Hoover running safely.
"There's a lot of moving parts. I could not imagine going through this past year with a better group of people, they have been phenomenal," Hecko said."We're a small community and we have to do a good job of taking care of each other."