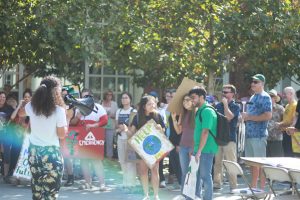 "When the air we breathe is under attack, what do we do? Stand up, fight back!" chanted DePauw students last Friday, Sept. 20 as they marched from Stewart Plaza to the Greencastle courthouse. This chant, along with "Hey hey! Ho ho! Greenhouse gases got to go!" was all part of the first Climate Strike.
The global strike garnered over 4 million protestors, according to the Twitter of Greta Thunberg, Swedish environmental activist and the face of the #ClimateStrike movement.
Students began the strike in Stewart Plaza. Protestors could speak with a variety of organizations and sign up to contribute to local initiatives. At one table, students volunteered to help form the Community Orchard. Students at another table offered petitions for state and federal legislators.
Victoria De Dios, first-year, said that going "straight to the policymakers themselves" is an essential step to creating change. "Denial is not a policy," De Dios' poster announced.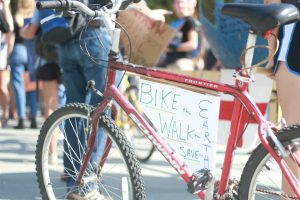 First-year Imani Luellen agrees that the government needs to come to a consensus on climate change.
"There's been a big debate, and it's not even scientifically, because scientists have come to a consensus…politically, a lot of people are denying [climate change]," Luellen said.
The strike consisted of not only students, but also of Greencastle community members. April Billingsley, Greencastle resident, marched alongside her seven-year-old son, who she pulled out of school for the strike.
"I'm doing this for him," Billingsley said. "I don't want him to have to deal with the mess of generations of the past."
However, the national debate remains whether one strike will really help stop climate change. As many DePauw students agreed, the strike raised awareness about the extent of the problem.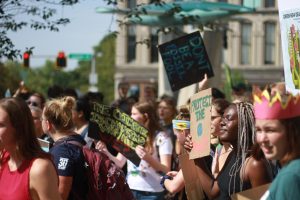 "Ignorance isn't bliss," first-year Shiley Claypool said in regards to the efficacy of the strike. However, "One day is better than silence," she said.
De Dios agreed that the strike would make change, but also said, "This isn't enough…a climate strike is great, but we need to do something afterwards."
There is something more students can do to combat climate change. A second climate strike will occur next Friday, Sept. 27 at 11:30 a.m. It will begin at the Greencastle courthouse and end at DePauw.
As Greta Thunberg said, "Change is coming– like it or not."