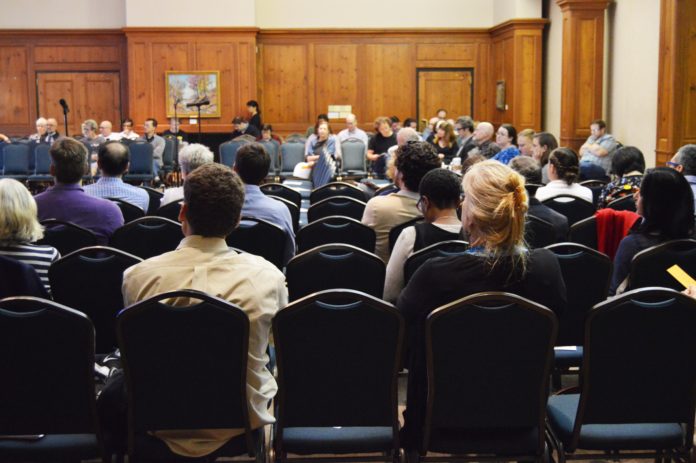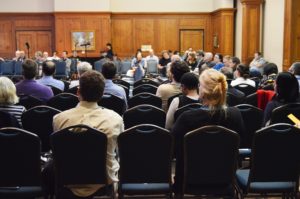 Faculty agreed to make several changes to the Academic handbook during the DePauw University faculty meeting on Monday.
The most notable of these was the proposal to change tenure policy preventing professors from requesting letters of recommendation from students.
The proposal was developed by Meryl Altman, professor of English and women's studies as well as chair of the faculty personnel and policy review.  
When professors are up for tenure review and promotions, they must put together a file of information about all of their work ranging from academic to creative work. This file, called the "decision file," is then read and evaluated by their department. The decisions for promotions or tenure are made on the basis of what is in each professor's file.
Student input, in the form of student opinion surveys filled out at the end of the year, are taken into account in these files as well. The information involving the demographic requests have recently been changed and will not be required in an attempt to have students write more on each professor and class.
In addition, students are able to write letters which will go directly into the professor's decision file. You can submit letters for any faculty member who is up for review. Until the most recent faculty meeting, professors were able to ask students directly for letters for their file. The decision to stop professor's from asking students for letters was made to prevent students from being put into awkward situations. "The basic rationale for the change is that the way we do that is weird," Altman said.
In addition, early notice was given about several proposed changes to certain disciplines. A motion was announced for reducing the prerequisite courses for the World Literature minor. "I don't think this is expected to be hugely controversial, but we thought that it needs to go through this process," said John Caraher, a professor of physics and astronomy, and chair of the Curricular Policy and Planning committee.
Another motion that will be decided upon next meeting, would change the Bachelor degree in Music Education requirements. If this motion is passed, it would require the students who are receiving a bachelor's in Music Education to complete an extended study at a secondary school.
"Under the current curriculum, Bachelor of Music Education students don't have exposure to teaching at every level in the K-12 system, which they ought to," Caraher said.
The faculty meeting came to an end with Anne Harris, vice president for academic affairs, calling for more attention to diversity in all classrooms.
"We are the stewards of the living and learning spaces that our students call home for four years," Harris said to applause. "There needs to be a response in the learning space."