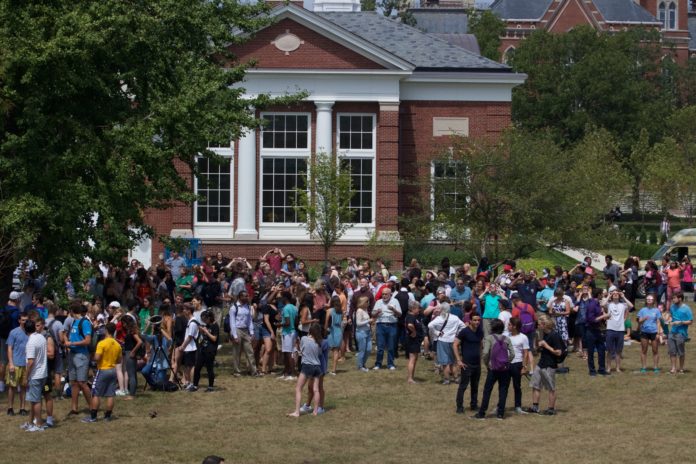 North America experienced a complete solar eclipse on Aug. 21 for the first time in seven years and the DePauw community was quick to take part in all the lunar festivities. On aug. 21 many DePauw University students, faculty and staff, along with many people across the nation, went outside and looked at the sky to witness one of the world's great natural phenomena.
Monday's eclipse over southwestern Indiana was a 98 percent eclipse. The eclipse reached its height, where it covering the majority of the sun, around 2:30 pm in the afternoon. Many members of the DePauw community, including Greencastle residents, set up folding chairs and blankets on in Bowman Park starting at noon until rain cleared out the area a little after 3 pm.
The DePauw University Hubbard Center for Student Engagement passed out eclipse glasses for watchers to safely view the eclipse. Some spectators brought their own glasses or used home-made eclipse viewing devices, included pieces of paper and cardboard boxes to safely view the eclipse, methods discussed in last week's issue of The DePauw. The DePauw University astronomy club took a group of students to Kentucky to view the eclipse in its entirety and on campus faculty members of the physics and astronomy departments brought telescopes to Bowman Park for their students to view the eclipse close up.
The next total eclipse for North America will happen in April of 2024.