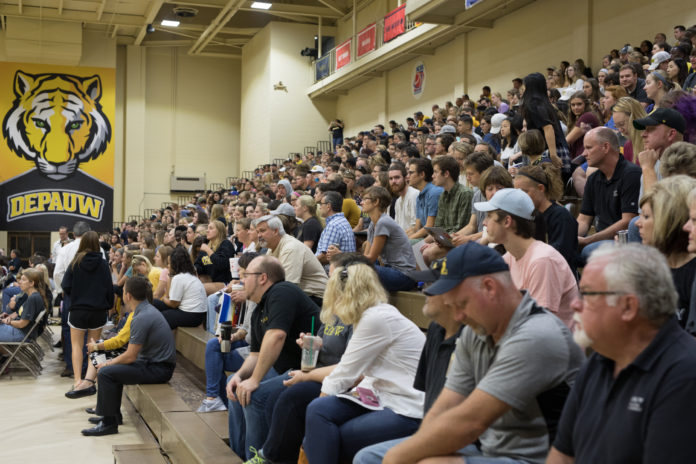 There were no protests on campus this year. Instead, on Wednesday, students, faculty and staff filtered out of Lilly holding brightly colored pictures with a room number assigned on the back, looking to connect through their differences.
This year's Depauw Dialogue saw a change in format and an emphasis on small group discussion.
DePauw Dialogue 4.0 started with a keynote speech from Leslie N. (Williams) Smith, 2003 DePauw University alumnus. Smith said she wanted people to embrace being uncomfortable in an interview with The DePauw. "It's very cliche," said Smith. "It's the title of the keynote, but I think that because, like I said, we all have different identities and we all come from different backgrounds. It's okay to be uncomfortable."
Alan Hill, vice president of academic life, thought the keynote was something people could understand. "I thought it was real. It's just a real story, especially being an African American understand that I can relate to," Hill said.
Despite enjoying the keynote, junior Ashley Beeson was disheartened by the small attendance. "As per usual, I wish more people were there and more people showed up," said Beeson. "I know that after the speech you could definitely see a lot of people going back to their houses and dorms and apartments and that's disappointing to see."
The focus for this year's dialogue was a small group, in-depth discussions led by faculty, staff, and students. This change is a result of critiques given from last year's dialogue. The small group discussions were held in assigned rooms that were printed on the backside of different images distributed during the keynote speech.
Junior Sidney Holler thought the common activity was beneficial. Holler said that despite people being confused or a little scared at first, people opened up and became comfortable with each other. "It was really helpful to hear what everyone thought and to open up the discourse in a way where strangers are talking to strangers because I don't think that happens organically, usually," Holler said.
Beeson served as a student facilitator to a classroom where no students showed up. Beeson said she thinks the low attendance is a multi-faceted problem that stems from previous dialogues and a disconnect from issues on campus. "I think the larger part is that people didn't show up because they didn't have to, and they didn't see it as their problem or something they needed to do for themselves," Beeson said.
Afternoon breakout sessions were also offered. Sophomore Khoa Vu planned to attend the breakout session titled, "The Deep Dive: Do I Know Who I Am? Expressing Leadership Challenges in a Socio-Political Climate." When asked why he wanted to attend this session Vu said, "I want to explore, especially about who I am and what I want to do."
Sophomore Vincent Pham said he was planning to attend the Model United Nations Caucus breakout session. Pham was interested in this breakout session because he thinks that, "right now we are focusing on the domestic issues but what we often neglect is foreign policy and how it impacts us as a whole."
First-year students, Jonah Jerabek and Robert Krauss, though it helped to connect with people through deeper conversations that would not happen normally. "It was set up in a way where you could learn different perspectives and have a much more in-depth conversation in general," Krauss said.
Although there seemed to be a low student turnout, President Mark McCoy said that the day was much more positive than in the past. "It has been very inclusive and very many people thinking on the same page with the same goal," President McCoy said.
Smith said she wished something like DePauw Dialogue had existed when she attended DePauw, saying, "I do wish we had these opportunities to have these discussions as a University because not everyone has the opportunity to have these conversations in class."
DePauw hosts its fourth annual Day of Dialogue for students to discuss campus climate issues.