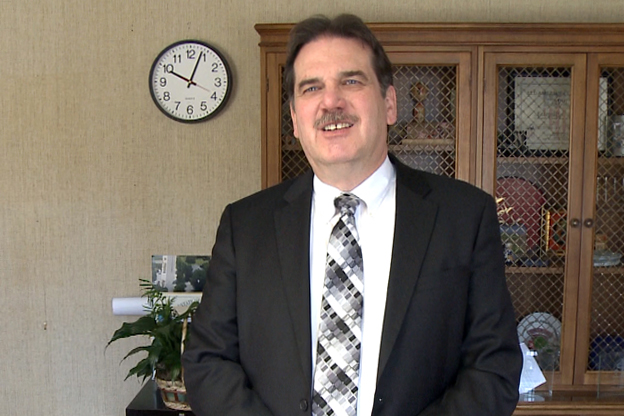 The DePauw sat down to chat with Greencastle Mayor Bill Dory about the recent developments happening in downtown Greencastle.
The DePauw: How did you first get involved with the project of developing Greencastle?
Bill Dory: Mayor Sue Murray put together a team of community members, and I was a member of that team.
TDP: Do you feel personally attached to the development of Greencastle?
BD: Oh, yeah. You have to be. Most definitely, because of a lot of people - members of that team, city staff, and a lot of others - put a lot of blood, sweat, and tears into that.
TDP: What is the Stellar Communities grant?
BD: Greencastle was one of the first two communities in the state for the program. We received about $15 million for improvement, so Starbucks and the bookstore were part of that, and some of the streetscaping and facade renovations. We've got a trail project that'll be under construction next year and that'll be the last official project, but that's not in the downtown area.
TDP: How have you seen the development progress?
BD: I think it has done great. We've had a lot of compliments from people who visit. We do First Fridays events downtown, close the streets off, have a couple bands, and that has steadily grown, and a lot more people come in from out of town. We have a Facebook page called "Chow Downtown Greencastle" that combines events in the community that people could bundle with dinner and a movie.
TDP: What kind of feedback have you gotten from the community so far?
BD: For the most part, the community has been pretty supportive of these projects. Certainly when we do street improvements and sidewalk improvements in the neighborhood, people like that.
TDP: Are you personally able to get feedback from the community?
BD: People are welcome to call me anytime, students are welcome to call me. People are welcome to contact me on the city's website. People will see me in the grocery store, at the farmer's market, and say something. I tell people, "By all means, tell us." We have a limited staff, and unless people tell us something, we might not be aware of what's happening.
TDP: Where has the movement to develop Greencastle come from? Did the new businesses popping up come from a lack of small businesses in the past?
BD: Some funding has to come from the state, and some is part of our local tax dollars which we raise every year. In a community the size of Greencastle, you get some business turnover all the time. When I came to Greencastle, the post-WWII merchants were still active around the square. As those people retired, there's been a transition over time. We didn't do too badly during the big recession. We did have a few small businesses fall by the wayside, but we've had a few others come in since.
TDP: How has it been trying to get DePauw students to enjoy downtown Greencastle?
BD: We spoke to the freshmen the other day. For a town the size of Greencastle, there's a lot going on. On the other side of the coin, we have been working hard to get the community on campus. We work with the tourism folks to try to bring people from a 50-mile radius onto campus for the various arts and sporting events, starting with DePauw alumni who live in Indianapolis and might come back to campus for things.
TDP: Moving forward into the future, what are the plans for the city, and the relationship between the city and DePauw?
BD: We continue to look at those blocks between campus and downtown, thinking of the kind of developments we should encourage in those blocks to create pedestrian amenities and flow and interest to encourage people to come to the square. Certainly, I think we've got a nice core group of restaurants that should be attracting students. We'll continue those sorts of things - our chamber, our Main Street group, and our development group - and look for other businesses that we can bring to downtown that would be attractive to students and the community.