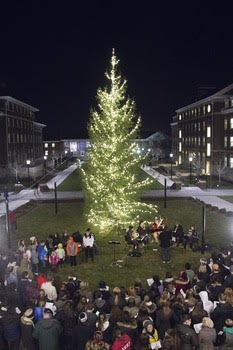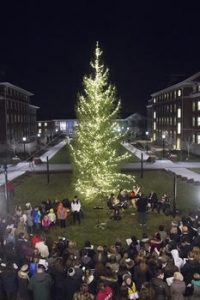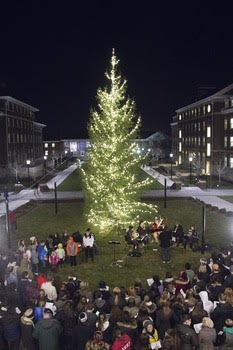 5th Annual Christmas Tree Lighting
Thursday, Nov. 30 at 7 p.m.
Featuring hot chocolate, Christmas carols, and student performances. All are welcome.
DePitches Winter Concert
Friday, Dec. 1 at 7:30 p.m., Meharry Hall
DePauw's all-treble accapella group will be performing their annual winter concert. Enjoy their sweet vocal stylings as you start off your weekend festivities.
December First Fridays, Downtown Greencastle
Friday Dec. 1, 8, & 15
Santa Claus will be coming to Greencastle on Dec. 1 from 5-7 p.m. to kick off December First Friday. Community members will light the holiday tree and announce the winner of the Main Street window decorating competition.
School of Music's Seventh Annual Holiday Gala
Saturday, Dec. 2 at 7 p.m.
Sunday, Dec. 3 at 3 p.m.
The School of Music's annual holiday performance. There will be refreshments in the Great Hall after the Saturday performance, and Santa will come to the family concert on Sunday. Tickets are free for students.
Snowy Pines Christmas Tree Farm
1375 N US Highway 231, Greencastle
Pick out your own Christmas tree at this Greencastle nursery. Open daily 9:30 a.m. – 7 p.m.
Greencastle Goodwill
1021 Indianapolis Rd, Greencastle
Check out Greencastle Goodwill for your ugly Christmas sweater needs. Open 9 a.m. – 8 p.m. Mon-Sat and 12 – 6 p.m. on Sundays.
Holidays in Indy
Take a break from studying with a trip to downtown Indy to see the lights on the Soldiers and Sailors Monument in Monument Circle at Indy's center. Go ice skating for $9 at the Indiana State Fairgrounds.