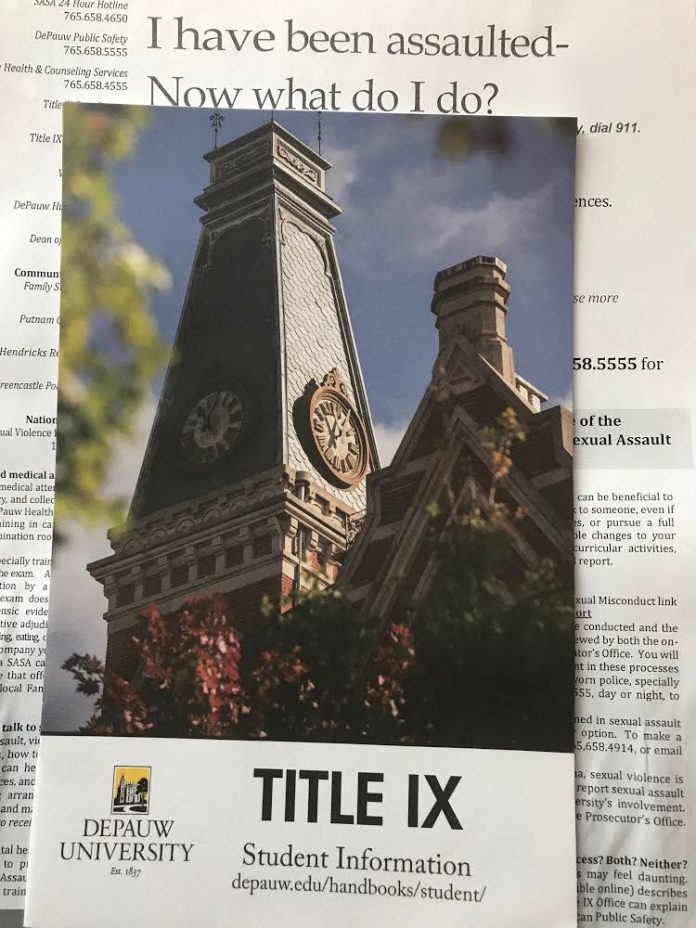 *Trigger warning: This article contains information about sexual assault and/or violence which may be triggering to some readers.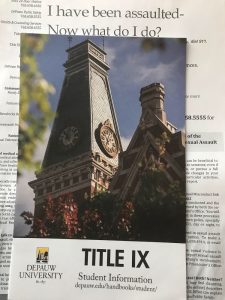 Junior Aika Torres was 18 years old and excited to start the new chapter of her life as a first-year at DePauw when she met the man who would later sexually assault her. Torres connected with her attacker after they realized they had similar career interests through Instagram. Torres had a boyfriend at the time, so she viewed her relationship with her attacker as strictly platonic. However, the relationship Torres had with that boyfriend ended around September 2016.
The night of Sept. 6, 2016 Torres received a text from her attacker who had just left a bonfire at a fraternity. His text read "Let's make out" and Torres agreed. When she and her attacker were figuring out where they wanted to meet, he suggested that they either go outside or to her room. Making out in the privacy of her room seemed like a good idea compared to being outside, so she agreed.
Torres's roomate and her friend both went down the hall to the common room in Humbert, allowing Torres to have the room to herself that night.
When her attacker arrived, they eventually began kissing and everything started off as consensual. Eventually he asked if she wanted to see his penis to which she immediately responded "no" despite him proceeding to show her anyway.
"I remember he was trying to slip his fingers under my shorts. He slides his hands under my shorts and you know where that goes. That was when I tried pushing him off and I said please stop. I told him to not touch me. I told him to leave. He wouldn't listen," Torres said.
Torres recalls being able to taste alcohol on his breath, suggesting he had been heavily drinking prior to his arrival despite his insistence that he only had one beer.
"I remember texting my friends like please knock on the door. Please come get me because he just wouldn't stop touching me. Right when I said that, they came banging on the door," said Torres.
When Torres's friends arrived her attacker put back on his pants and left.
"As soon as he left I just broke down in tears. I remember falling on the floor. Someone across the hall had heard it because I was crying really loudly and they reported it right away to my RA. The next thing I knew, Public Safety was there," said Torres.
"I couldn't even describe how shocked I was that that had just happened to me. I couldn't sleep that entire night. I had to have my roomate sleep right next me. It's just weird to know that I was a victim. You don't picture yourself being a naive first-year and then something like this happens. And then you have to live with that for the rest of your college career," Torres said.
A week after her assault, Torres started counseling through DePauw's services. She specifically sought after a male counselor to help her not be fearful of men after her assault. Torres found solace in a DePauw Counseling service intern named Matt, whom she saw for the entirety of that year. Torres had a positive experience working with Matt and he was the one who helped Torres eventually tell her mom what happened.
When Torres finally shared her experience with her mom, a "traditional Filipino woman," her mom's response was anything but what she expected.
"She asked me had I been drinking? She basically victim-blamed me, which is something you never want to hear from your mom. I just don't understand how she couldn't have supported me at that point. I know she's very protective of me, but no daughter ever wants to hear her mom say that it was her fault. That was the part that really broke me," Torres said.
Despite her initial lack of support, Torres's mom eventually began to support her by assisting her in purchasing the antidepressants she was prescribed by her therapist to help with her Post Traumatic Stress Disorder after the assault. According to Torres, her mom made this decision to support her, despite reservations about medication as someone born and raised in Eastern Culture.
Torres still suffers from panic attacks, or what she describes as an "out of body experience where she often cries hysterically and essentially loses touch of reality." Torres most recently had one earlier this year after receiving news of Brett Kavanaugh's confirmation to the Supreme Court. Torres also had one this past summer that resulted in her being hospitalized.
Torres made the decision to go through an investigation with Title IX shortly after her attack, which resulted in her attacker eventually being suspended from DePauw.
"The two Title IX administrators that I'd worked with were Wendy Wippich and Juli Smith. They were both really understanding and they were two resources I could go to at anytime to ask can I see this file again? Can I like reread this? Just things that would protect me and my mental health," said Torres.
Torres's positive experience working with Title IX has influenced her career plans for the future. She is looking forward to serving both people of color and other marginalized groups who have dealt with an experience of sexual assault by working with an organization such as Title IX. "I think being a Title IX administrator would be the dream," Torres said, "just being able to facilitate conversation and understand what people have gone through."