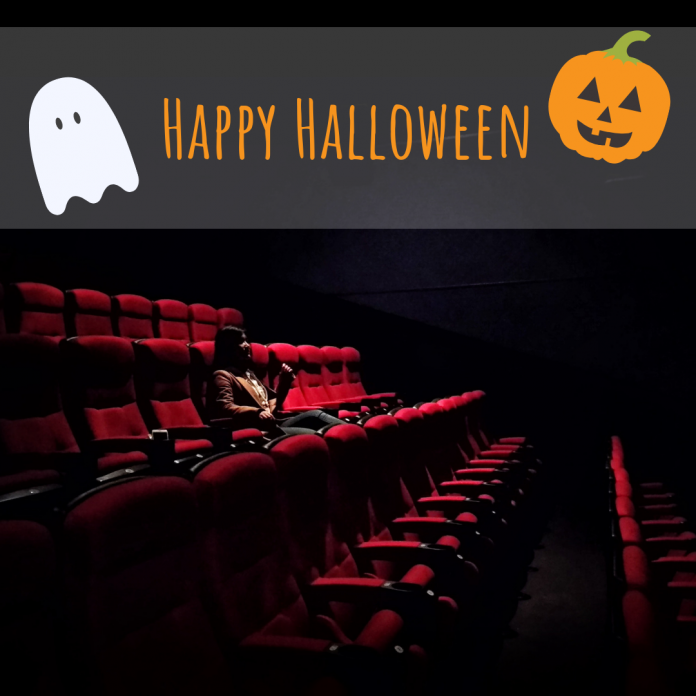 I used to ask my dad to tell me scary stories before bed, so it's no surprise that I LOVE horror movies, halloween, and all things a little creepy! And quite frankly, I think if you're going to be watching something that fits the season, you might like it just a bit more if curled up with friends eating some homemade popcorn and jumping or laughing together! So I've compiled a list of some movies that you might have access to watch through some online streaming services that are perfect for the season, and I promise not all of them are scary!
NETFLIX
The Witch: This story that takes place in Puritanical New England focuses on an excommunicated family. The film begins with a jarring scene that starts the family's ultimate destruction and downfall. And things only become worse for the family as more of them venture into the woods and encounter the witch who lives there. The oldest daughter is faced with the challenge of having to keep her family together, amid strange happenings around her farm involving their goat. This creepy film keeps the audience in suspense up until the end, and with its beautiful shooting and structure, makes it engaging to watch, even when you're frightened.
The Ritual: This twisted story about a group of friends who go off the trail while camping and encounter something evil in the wood, is a Netflix original worth watching. This film focuses on some of the terrifying elements of life sometimes occur before the true horror even begins. Haunted by his painful past, Luke finds himself in a particularly painful situation being haunted by dreams, as well as whatever is hunting them in the forest. This movie takes some turns that the audience would not expect and keeps the audience guessing about what creepy thing will pass next, as we follow this group of friends through the woods.
KANOPY
A Girl Walks Home Alone at Night: This film is one of my favorite horror movies of all time. In an Iranian city, we meet Arash and his father who have lived in the city for their lives. And then we are introduced to a character named only The Girl who begins to enter into and around Arash and his father's lives in unexpected ways. She encounters and then kills men in the town who have done bad things as a way for her to seek justice, but she is still seeking out company, due to being the lone vampire in the city. In addition to having a compelling plot line, and several genuine scares, this film is absolutely beautiful to watch. Shot in all black and white, the film takes on a whole new scary dimensions that this story feel as though it is old as time. And the recurring images and symbols that appear throughout the film, often representing the power of women, are just astonishing to look at. This movie is 100% worth your time.
What We Do in the Shadows: This mockumentary made by Jemaine Clement and Taika Waititi (you might know them from episodes of Flight of the Conchords) focuses on the living situation of four vampires who are rooming together in a small apartment in New Zealand. Vladislav, Viago, Deacon, and Petyr live fairly comfortably together, despite all being from different eras in time and being different ages. They encounter Nick, who then becomes a vampire, hangs out with the four friends, introduces them to new people, gets them into clubs, and attends the Unholy Masquerade with them in the end. We get to follow this unusual group of friends as they fly through windows, encounter vampire hunters, find their lost loves, and, of course, fight werewolves. If you're in the mood for a quirky comedy, this is the movie for you to watch, check it out.
HULU
Huluween Film fest: I'm very much into short films, which I realize is a little niche specific, but I think if people watched them more, they'd see just how cool they are! It's very difficult to tell stories in 4 or so minutes, and it's even harder to scare people in that amount of time, but I think these shorts on Hulu definitely deliver! Each one packs it's own creepy scares, and makes the viewers feel a little uncomfortable. The camera work and quality of these films too, gives them an extra eerie quality that makes them even more appropriate for the season. And even more so, it's easy for the audience to feel immersed in each of the settings. My personal favorites of the shorts are The Hug, Urn, and Lippy. So take 33 minutes and watch all of these shorts because I promise they'll get you in the mood for the holiday!
The Nightmare Before Christmas: There's no way I could write an article about my favorite Halloween movies, and not include my favorite Halloween (and Christmas?) movie. Tim Burton's animated feature focus on Jack, the Pumpkin King, discovering a world outside of his own Halloween town, a world of Christmas, and Jack deciding to try taking over Christmas. All of the citizens of Halloweentown go along with the plan but something just isn't quite right. Ultimately, all of the citizens of Halloweentown, including Jack learn that they should stick to doing what they do best. This cute romp through an imaginary world is full of songs, humor, and beautiful animation. And it's not that scary, so if you find yourself missing trick or treating a little more this year, this is the movie for you!