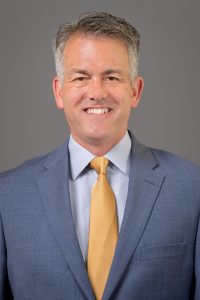 According to a press release, Steve Setchell, vice president of development and alumni engagement, will resign on Nov. 1. He has been appointed the vice president for development and alumni relations at Whitman College in Walla Walla, Washington.
Setchell, a 1996 DePauw University graduate, has worked for his alma mater for two decades.
Cara Setchell, current dean of experiential education and executive director of DePauw's Hubbard Center for Student Engagement, has been a staff member at DePauw since 1999 and will be moving to Washington with her husband.
"DePauw is and will continue to be, a place I love and where some of my greatest memories were created, but this is a wonderful opportunity to open a new chapter in our lives," Steve Setchell said in the press release.
At Whitman, Setchell will serve on the president's cabinet with oversight of all fundraising and alumni engagement efforts, managing a team of 33 employees who support the strategic advancement efforts of the college. His hiring was the result of a national search.
"The entire DePauw community gives its thanks to the Setchells," said President Mark McCoy. "It is with joy and sadness that we see them head west on a new adventure. This is a wonderful new opportunity for them, and they will be missed by their legions of friends and colleagues."
According to the press release, Setchell has been working closely with McCoy since August to discuss the process and prepare for the possibility of transition. The university is working to soon finalize plans for interim leadership of the development and alumni engagement division.
Long active in the local community, Steve Setchell has served on the board of directors of Beyond Homeless Inc., the Putnam County Community Foundation, and the City of Greencastle's Commission on Sustainability.
An alumna of Bethany College in West Virginia and Canisius College in New York, Cara Setchell has served in multiple roles including director of residence life, dean of students, first-year class dean and dean of experiential learning and executive director of the Hubbard Center for Student Engagement. Cara is eager to seek professional opportunities in the Walla Walla area.