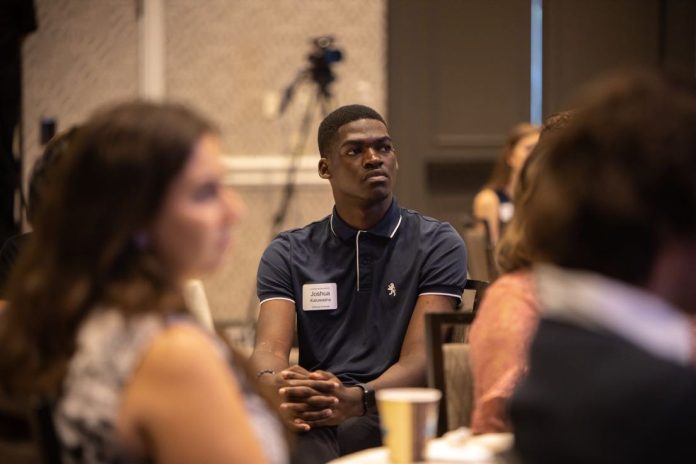 As seniors approach their last month on campus, they share their perspectives and feelings about graduation. After being at DePauw for four years, seniors have a wide variety of experiences on campus and abroad.
Senior Joshua Kaluwasha expressed his excitement toward winding down his time in Greencastle. For him, he believes he's done everything he can at DePauw, and he's excited to pivot to the next chapter of his life.
"I've made many good friends here at DePauw, and I'll miss being within close proximity to most of them. However, I know I'll continue to communicate and connect with the people closest to me even as an alumnus. I'm looking forward to my new job, moving to Washington D.C., meeting new people, and building my personal brand in the professional world," Kaluwasha said.
One thing Kaluwasha said he wishes he'd done differently is studying abroad. Kaluwasha also said that he's learned to be passionate, follow your instincts, and do what you love, which he emphasized can apply to academics, personal relationships, or professional careers.
"Another of the most important lessons I've learned is to be positive and always try to be a positive influence in the lives of others. When I first transferred to DePauw in the midst of the pandemic as a second-semester sophomore, I had never stepped foot on this campus and did not know a single person. I made it my mission to put myself out there and spread my influence in a positive way. That goes a long way and people remember you for the small friendly gestures you make," Kaluwasha said.
Kaluwasha advises younger students to get out of their comfort zone. He encourages them to try something new, reach out to people you typically wouldn't, go to social gatherings, and don't be afraid to be different.
Senior Chris Maltby said being so close to graduating feels crazy, but that DePauw has helped him prepare for it since he stepped on campus. Despite being an overwhelming time, Maltby attested that he's been able to hone in on developing skills to manage time and stress. With two seminar projects due in the next few weeks, Maltby is ready to finish strong.
"Simply put, I will miss the people. I've been fortunate enough to come across so many incredible people during my four years as a student. Whether it be professors, my fraternity brothers, my tennis teammates, or other friends, I'm going to miss being a part of such a tight-knit community and interacting with people who push me to do my best each and every day," Maltby said.
Maltby is looking forward to moving back to Chicago after he graduates. Since he can remember, Chicago has been a city he has dreamed of living in. Maltby will be working as an Associate Cyber Broker at Aon and can't wait to use the skills he has learned from his liberal arts education.
During his time at DePauw, Maltby wishes he got more involved in clubs. He said that extracurriculars are by far the best way to get to know more people on campus. Maltby's advice to younger students is to put in the effort to get the results.
"Whatever it is you want to do or achieve during your time here, work 110% to get that done. DePauw's support system is impeccable from the top down and every student has the resources available to achieve whatever they want here on campus," Maltby said.