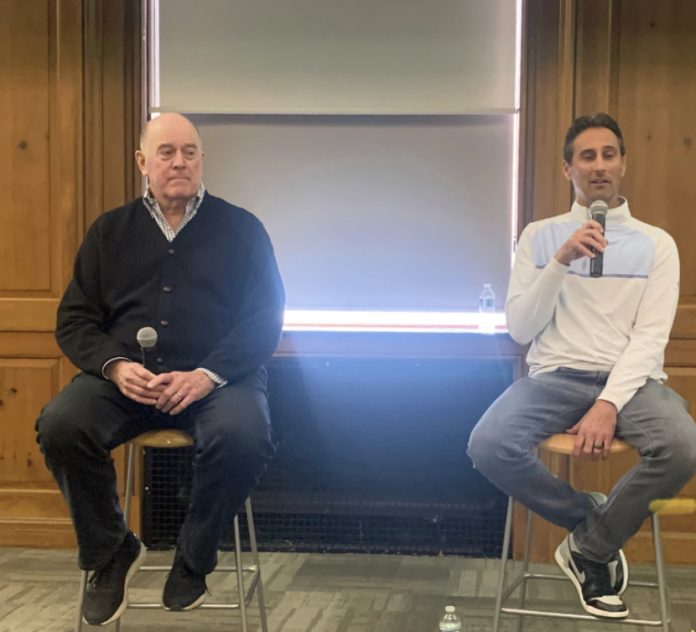 Semi-retired NBA executive and senior advisor Rick Sund paid DePauw's campus a visit on Wednesday, Feb. 8 to speak to students about his professional journey. Sund's talk was part of the McDermond Center Speaker Series, co-sponsored by DePauw's sports management and administration programs.
Rick Sund has had an extensive career in the NBA, managing teams for over 40 years consecutively. The seasoned NBA executive first began his career in sports management with the NBA in 1974 with the Milwaukee Bucks after receiving his master's in sports administration and management from Ohio University. Sund stayed with the Bucks for five years until he was hired as general manager for the Dallas Mavericks in 1979 at just 28 years old. This move was significant for Sund and the NBA as Sund became the youngest general manager in the franchise's history.
From 1995 to 2000, Sund worked for the Detroit Pistons, first as vice president of basketball operations and then as general manager. The Pistons made the playoffs four out of the six seasons Sund was with the team. In 2001, Sund advanced to the Seattle Supersonics where he served as general manager for six seasons. While Sund managed the Supersonics, they were the inaugural champions of the Northwest Division in the 2004-05 season.
Most recently, Sund was general manager and executive vice president for the Atlanta Hawks from 2008 to 2012. The Hawks, under Sund's management, had a winning average of virtually 60 percent, reached the playoffs in all four seasons Sund was with the team, and thrice advanced to the Eastern Conference semifinals.
In his talk on Wednesday, Rick Sund addressed a crowd of eager students in the UB Ballroom, reflecting on his professional journey and offering up advice for undergraduate students entering the professional world.
Sund began his talk by noting the similarities between DePauw University's size and structure and that of his alma mater Northwestern.
"50 years ago, I was sitting where you are. It was a liberal arts school at Northwestern. Smaller school, the smallest in the Big Ten. I was on a basketball scholarship, and the reason that it had real educational and academic appeal to me was it was liberal arts. I could get a liberal arts degree because I didn't know what I really wanted to do."
Sund expanded on his undergraduate experience, sharing that as a senior at Northwestern, he was still unsure about what to do, until by chance, he stumbled upon a magazine in the reception room of his athletic director's office.
"There were some magazines there and I picked one up and they were talking about the school. It's called Ohio University. But they were talking about the program they had. And they had just instituted an academic program at the graduate level called Sports Administration and Management. And so, you know, I read them while I was waiting, and then I said, 'Hey, can I have this magazine?'"
Sund then went on to speak about his first experience working with the NBA as a basketball operations intern for the Milwaukee Bucks as part of his master's program. As he recounts his time as an intern, he describes an organization nowhere near the size of the NBA organizations we recognize today.
"I want to preface it by saying that it's hard for you to believe, it's hard for my kids to believe that there are only five people in the Milwaukee Bucks organization. Yes. And so that was it, five people, then we had a few—today they're called executive systems, but back then they were called secretaries," Sund said.
For Sund, having so many responsibilities and so few people meant lots of hands-on learning experience.
"We all pitched in and did everything. We worked in tickets. We worked in public relations. We worked in communications. We didn't have a finance department, we had a controller. So I got to learn a lot about professional sports at a very mom-and-pop type organization because that's what it was," he said.
For DePauw students still unsure about what to pursue after graduation, Rick Sund offers them some advice: Keep your options open. The advantage of going to a liberal arts school, in his opinion, is its ability for students to take an assortment of courses and pursue a multitude of interests. Even if you have some idea of what you would like to pursue as a career, Sund recommends that you stay open to the idea of other possibilities, because you never know when an opportunity might catch your eye, as it did for him.
"And the message I'm saying is, fulfill your career thoughts and dreams, but also be open-minded because there may be other opportunities to shoot off of it. So I think that's very, very important as you go to your pursuit of careers," Sund said.