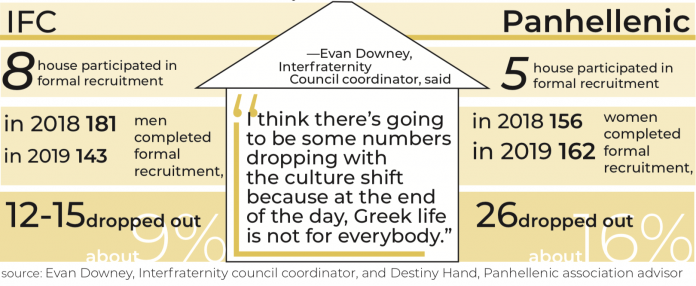 Although Alpha Tau Omega and Kappa Alpha Theta were suspended from this year's formal recruitment, final numbers indicate that the suspensions had little to no effect on the process, according to Interfraternity Council and Panhellenic.
"I don't think it (suspension of Alpha Tau Omega) affected the majority of men, as most of them were just trying to understand recruitment," said Evan Downey, Interfraternity council coordinator.
Last year, 181 men completed formal recruitment, compared to this year's 143. Despite the rather significant difference between the totals, Downey said that grade eligibility was a factor in the final results, accounting for nearly 30 men who could not go through recruitment. According to Interfraternity Council Rules, "Men, or any individual who identifies as male, that chose to participate in formal recruitment must have at least a 2.5 DePauw University GPA. Men that fall below a 2.5 GPA are not allowed to go through the formal recruitment process."
A smaller amount of men in the first-year class also accounts for the difference, said Bronson Rago, vice president of recruitment for IFC. According to DePauw University's Office of Institutional Research, 595 first-year students enrolled in the fall of the 2017-2018 academic year with 51 percent of the class being made up of males. During the 2018-2019 academic year, 564 first-year students enrolled in the fall with males making up only 47 percent of the class total.
Rago added that there were four men who officially dropped formal recruitment, stating that they wanted to wait for a bid from Alpha Tau Omega. Rago said that the total number of men who dropped recruitment was between 12 and 15.
On the Panhellenic side, Destiny Hand, Panhellenic association advisor, said that she was nervous going into recruitment because if a lot of women dropped recruitment due to Kappa Alpha Theta's suspension, then it could have lowered the quota of all Panhellenic chapters on campus.
However, that was not the case, as this year's quota for Panhellenic chapters was 31, up from last year's 25. "This is the first year every (eligible) chapter made quota," said Hand.
Quota is the number of potential new members to which each chapter can offer bids during formal recruitment. According to Hand, it is determined by a formula involving the number of chapters and the number of women participating in formal recruitment.
According to Hand, last year 156 women completed recruitment with 36 withdrawals and this year, 162 women completed recruitment with only 26 withdrawals. Hand credits the smaller withdrawal numbers to a newly implemented recruitment guide training program.
She added that there could have been a larger enrollment if there was no suspension of a Panhellenic chapter, but the statistics are showing that it had no numerical impact. "What I tried to do, which I think helped with the withdrawal rate, was to help people see that every single Panhellenic organization that we have on this campus does incredible things and has incredible people in them," said Hand.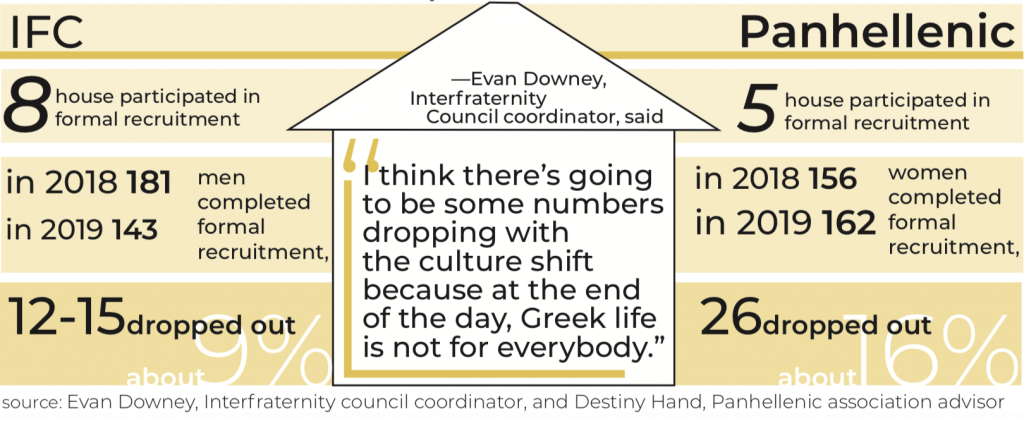 Kappa Alpha Theta and Alpha Tau Omega were not allowed to participate in this year's formal recruitment because both chapters are on interim suspension with DePauw University due to a single alcohol-related incident that occurred between the two chapters.
Panhellenic recruitment numbers since 2010 show no clear pattern of decline, said Hand. Although, she added that the likelihood of Generation Z students choosing to be involved in Greek life is something that is being actively monitored: "The involvement of Generation Z and what they're looking for in their college experience could potentially affect some things."
According to Jeff Kallay, team leader of Render Experiences, a consulting team made up of five people who specialize in working with universities to enhance their campus visit experiences, said that safety and well-being, among other things, are a defining characteristic of Generation Z.
First-year Angelika Yeghiazaryan said that the suspension of Kappa Alpha Theta didn't discourage her from going through recruitment, but she does know women who chose not to go through recruitment and are waiting until next semester.
Thomas Curdt, also a first-year who completed formal recruitment, said that Alpha Tau Omega's suspension had no effect on his decision to finish recruitment. He added that while he knows some men who dropped recruitment as a result of the suspension, most men "spent the last week before rush hustling to find different houses that they should join."
Rago said that the national perception of Greek life is enduring criticism with hazing and alcohol-related events gaining public attention, which could possibly lead to smaller recruitment numbers in the future. He added that DePauw is also attracting more international students, who have less knowledge of Greek life and therefore are less likely to join.
"I think there's going to be some numbers dropping with the culture shift," said Downey. "Because at the end of the day, Greek life is not for everybody. But I think that once we showcase the actual benefits to it, we may attract more people."