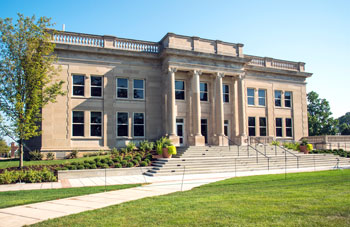 As part of a larger plan to cater admissions toward prospective students, DePauw University has contracted Render Experiences to tailor campus visits toward Generation Z.
Render is a consulting team made up of of five people who specialize in working with universities to enhance their campus visit experiences. Two members of this team visited DePauw in Oct. 2017 for two days to provide a visit audit, or evaluation, of the current student experience during a campus visit. This audit included a 20 page document and photo album that rated the daily visit and made suggestions for improvements.
The same team has returned for the spring semester to begin aiding DePauw by changing the way they carry out campus visits. The team on campus includes Render consultants Jeff Kallay, team leader, and Brittany Joyce, senior consultant.
In order to better engage with the beginning of a new generation of students, Render was hired to shift the stylings of the campus visit away from Millenials and toward Generation Z.
Generation Z is defined by a few characteristics: they were born in the early 2000s, they are more frugal and resume focused in comparison to Millenials, safety and their well-being is a top priority on a college campus, and, lastly, they are outcome focused, said Kallay.
There is also a secondary focus on the parents of Generation Z students, who Kallay describes as either "stealth" parents who wait to ask hard hitting questions, or "lawnmower" parents who attempt to move everything out of the way for their child. These parents typically do not trust institutions, do not want to pay for their child's education, and want those involved in admissions to get to the point, Kallay said.
DePauw Admissions, in conjunction with the Render team, held two meetings open to faculty and staff on Feb. 9 that focused on how to best recruit and work with Generation Z students and their parents. During this meeting, Kallay provided information on setting expectations, which included facts about Generation Z and how that information should translate into a campus visit at DePauw. "If we are selling place-based education [where community provides context for learning], then seeing [and feeling] the place still matters," Kallay said.
"It really does takes a whole campus to recruit," said Rachel Schmidtke, director of recruitment, to faculty and staff before introducing Kallay who echoed her statement in his opening lines.
In addition to informing faculty and staff, consultant Joyce held a three hour long workshop on Feb. 8 for student tour guides and ambassadors on how to best engage with prospective Generation Z students.
Estefanie Solis, first-year student, heard about the changing campus visit from a friend. She likes the idea and initiative DePauw is taking, but is worried about the assumptions the change is making, saying, "Since this is such a new generation, there's no real definitive way to know how these people will be."