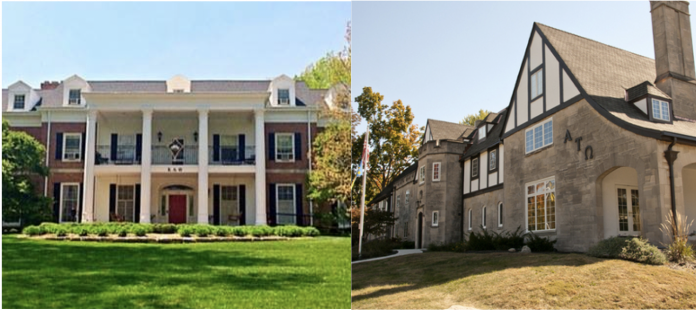 This story was updated 1/21/19 at 7:45 p.m.
One student's alcohol-related hospitalization has led to the interim suspension of two Greek houses on campus. Kappa Alpha Theta and Alpha Tau Omega will not be allowed to participate in recruitment this weekend because both chapters are on interim suspension with DePauw University due to a single alcohol-related incident that occurred between the two houses.
According to Myrna Hernandez, Dean of Students, the incidents that led to Kappa Alpha Theta and Alpha Tau Omega's suspensions are related and occurred on the same evening of Nov. 29, 2018. One male student was hospitalized with a BAC (blood alcohol content) higher than 0.45.
According to awareawakealive.org, a nonprofit organization for alcohol poisoning prevention, 0.08 is the legal intoxication level in most states. At 0.45, breathing stops and it is "a fatal dose for most people."
"It was high-risk alcohol consumption," said Hernandez. "It was really very scary, life-threatening levels. We are very lucky this did not turn into a tragedy."
On Nov. 29 at 5:59 pm, the DePauw Crime Log and Fire Log states that a student was "Transported to Hospital Forwarded to Community Standards Committee" at Alpha Tau Omega for "Alcohol Violation/Medical."
When asked about the wellbeing of the hospitalized student, Hernandez said that she has been communicating with him and his parents, but could not reveal his current state or identity.
An email from Evan Downey, Interfraternity Council Coordinator, mentions a delay in the release of the IFC recruitment schedule due to the "interim suspension of ATO."
According to an email sent Saturday evening from DePauw Panhellenic Advisor, Destiny Hand, to members of the DePauw Panhellenic community, the suspension of Alpha Kappa Theta is "due to an on-going Community Standards case." No specific information was revealed about the case in the email.
The email was intended to go out Monday morning, according to Hand, but "due to disheartening publicity being promoted by women within the Panhellenic Community," all members of the Panhellenic community were notified earlier. Hand referenced content shared on social media "talking poorly of Theta as a chapter."
Hernandez said she wants the DePauw community to focus on how dangerous the situation was and see it as an opportunity to address drinking culture on campus. "There has been a lot of talk about how this was individual behavior, not organizational behavior. One of the things we need to start addressing is how do we handle these kinds of things in our community? What is the responsibility of the bystanders?" It is not known if this was a Lifeline Law call which provides immunity for crimes such as public intoxication in the State of Indiana.
Hernandez and the Vice President of Student Academic Life, Alan Hill, have been in frequent contact with the headquarters of both chapters who have and will continue to come to campus, according to Hernandez.
According to DePauw's student handbook, organizations placed on interim suspension must "cease and desist with all organizational activities" including University activities and other organization privileges. Every seven days after the initial suspension, Hill or Hernandez have contacted the chapters to reexamine the suspension. Reexaminations can extend suspensions, terminate suspensions, expel the organization, or result in "any other action that is in the best interest of the University."
"We are trying to run them parallel," said Hernandez when asked about the status of the investigations. "They are different situations, the organizations each have different ways of handling internally. While our process is the same, each of them is at different points." The investigation cannot be fully conducted until every member of each organization is back on campus from Winter Break. Hernandez predicted the investigations to run through the end of February.
Kappa Alpha Theta and Alpha Tau Omega are only permitted to organize under the direction of their headquarters.
Several members of Kappa Alpha Theta were contacted but would not give a comment.
Grace Filbrun, a first-year student, will be going through formal recruitment this weekend. She said her friends are "sad because they wanted to be in Theta."
The DePauw reached out to other members of PHA (Panhellenic Association) and chapter headquarters, but they have not yet responded.