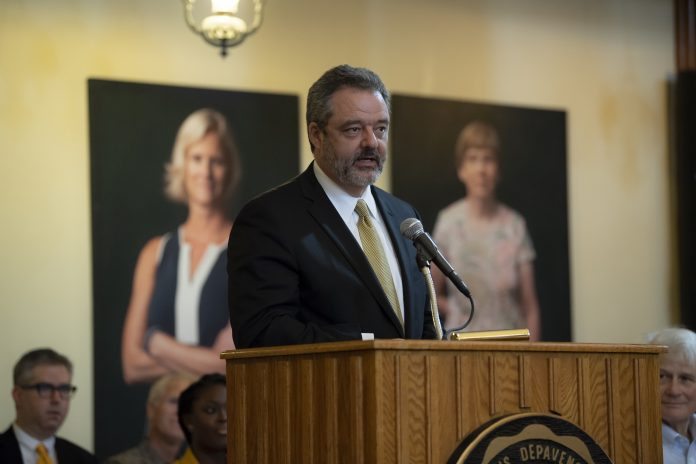 President Mark McCoy will resign following the 2019-2020 academic year following a decision made in meetings with the Board of Trustees last week. McCoy's resignation was announced in various emails to faculty and students Monday morning. The Board of Trustees plans to launch a national search for the 21st president of DePauw.
Throughout the past year, faculty, staff, students and alumni criticized McCoy for unsatisfactory responses to multiple racial bias incidents over several semesters, cuts to employee healthcare and numerous staff layoffs.
"I recognize that a lot of the decisions that were made were not particularly popular, but they were in the best interest of DePauw," McCoy said in a Monday afternoon interview which included Kathy Vrabeck, chair of the board of trustees. "Now, I believe that a leader without the baggage of change will be able to work from the foundation we've established."
The Board of Trustees and McCoy expected that these vast changes would eventually become too cumbersome for a person to continue as President of DePauw, thus warranting a change in leadership, but it had come sooner than they'd hoped or thought, McCoy said.
"Dr. McCoy has undertaken some very difficult things which the Board has been fully supportive of," Vrabeck said. "We thank him for all the hard work and endless hours that he's put into our great institution."
McCoy will continue to act as President over the 2019-20 academic year—a mutual decision made by McCoy and the Board of Trustees in an effort to ensure a thorough search for new leadership, McCoy said.
Over the summer, a search committee including faculty leadership, staff leadership, student leadership and the trustees will run the process of searching for McCoy's successor. Vrabeck said the search will take place over the course of the next academic year with a final decision made before July 1, 2020.
"I intend to be as fully committed [to DePauw] next year as I've been for my first eight," McCoy said.
McCoy began his tenure at DePauw in 2011 as the dean of the School of Music where he launched the 21st Century Musician Initiative (21CM). Since his appointment as President in 2016, McCoy led the launch of the Gold Commitment, promising DePauw graduates employment if they cannot find other opportunities within six months of graduating.
During his last year, McCoy will oversee the soon-to-be-completed Campaign for DePauw, DePauw's largest fundraising campaign, as well as renovations to first-year residence halls and Roy O. West library.
After serving as President of DePauw, McCoy plans to get back into conducting music but will wait until his children reach college.
"I'll always be a Tiger," McCoy said. "I won't be on campus on a regular basis, and I certainly won't be looking over [the next president's] shoulder, but I will always be available to be of assistance in any ways that I can—I'll always be following DePauw closely."
Maddy McTigue contributed to this article.