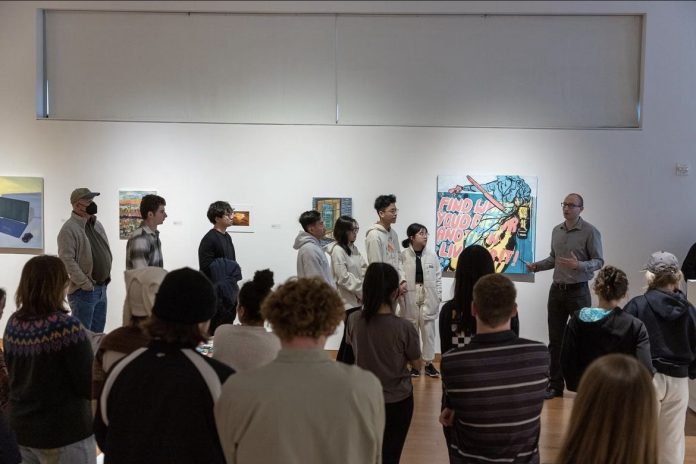 Feb. 7 marked the opening reception and awards ceremony of the 2023 Annual Student Juried Exhibition. Hosted by the Department of Art and Art History at the Peeler Art Center, this semester's juried exhibit featured art from 33 DePauw students, with mediums ranging from digital art to two- and three-dimensional art pieces. The exhibit was judged by Mark Rospenda, a member of Indiana University–South Bend's fine arts department and a former curator of the South Bend Museum of Art. Rospenda also had the opportunity to announce awards for three categories: digital art, two-dimensional art, and three-dimensional art. Each category, except for that of digital art, was divided into first, second, and third place, with some honorable mentions.
Rospenda first announced the winner of the digital art division as sophomore Eihi Yoshinaga, with her piece "Euphoric Discord." Her piece, a video artwork featuring several young women with their faces gradually being covered by scribbles, evoked a sense of young people "losing themselves" in the wake of COVID-19, according to Rospenda.
When asked about her piece, Yoshinaga said, "My piece is about the inner torment we face. The inspiration came from The Caretaker's 'Everywhere at the End of Time'."
Rospenda then went on to announce the winners of the three-dimensional category. This division included repurposed object, ceramic, and wood pieces. Coming in third place was "Destination" by Xitong Jin, which consisted of a mini wooden sign post painted blue and tilted on its side.
"I love it because of the simplicity of it," Rospenda stated about "Destination." "The artist is using the simple, kind of iconic, sign of a signpost . . . [to] indicate . . . where a decision has to be made."
In second place was "Mingei Tsukumogami: An Exploration of Supernatural Art" by senior Emma Gilliam. This set of five Japanese-inspired earthenwares struck Rospenda as "playful" and "fun." He noted the creativity in Gilliam's ability to portray the Japanese supernatural in such a unique way.
First place for the three-dimensional division was awarded to sophomore Mikah Mayes for her piece "Phantom," a found object artwork featuring a euphonium resting in its case and tied in with black thread.
"I was so fascinated with this piece . . . it blew me away," Rospenda said. He noted the importance of memory in Mayes' piece when he said, "This, to me, speaks all about time . . . It's seen a lot of love, a lot of movement . . . It's a memory of the music that was played with it."
Mayes expressed her excitement about receiving the award: "Winning the 3D division was such a surprise . . . Both of my pieces that were included were ones that I genuinely enjoyed making, so I'm glad to see others appreciating them too. Honestly, at the end of the day, the best part about winning was celebrating with my friends and my professors."
For the final category, two-dimensional pieces, Rospenda announced two honorable mentions alongside the three winners. Honorable mentions went to sophomores Chi Pham for her painting "DePauw Nature Park" and Dipson Pradhan for his photo "Reflection." Rospenda expressed his excitement about the technical skills that went into each artwork and offered compliments to both artists.
Rospenda then announced the third-place winner of the two-dimensional division to be sophomore Danielle Sommerman's "17," which used a marker and colored pencil to depict a cicada.
"What I found so interesting about this . . . is the generational aspect to this piece," Rospenda said, noting that the cicada depicted in "17" returns seasonally every 17 years. "It's just beautifully done, the handling of the materials is really beautiful."
Second place went to junior Nana Miyata for her untitled piece. Miyata's art used sumi ink and pastels to depict a table filled with a huge assortment of items, including flowers, grapes, and corn. Rospenda noted the "beautiful handling of materials" and the use of perspective and lighting. He connected this to the artistic community, noting that we all approach art with different viewpoints.
And lastly, the first-place award for two-dimensional art was given to first-year Tatam Doan's piece "Find What You'd Die For and Then Live For It," made with acrylic on canvas. Doan's painting invoked cartoon elements and paired them with a cowgirl on a horse, handing her gun to someone out of view. With its use of vibrant colors and strong messaging, Doan's work stood out to Rospenda.
"I love it because it's so in your face, it's so confident. . . It's kind of commanding you, it's like a call to arms," Rospenda added.
He connected Doan's piece to the recent overturn of Roe v. Wade and discussed how well it paired with another artwork about abortion rights in the United States.
As judging came to a close, Rospenda noted that he thought "everybody did a fantastic job . . . Just making artwork and sharing it with the public, that's a really brave thing to do!"
Students can view all of the curated student artworks in the Peeler Arts Building behind Julian. The exhibit will remain in the gallery until Feb. 26 and will be open from 10 a.m. to 4 p.m. Mondays through Fridays, 11 a.m. to 5 p.m. on Saturdays, and 1 p.m. to 5 p.m. on Sundays.