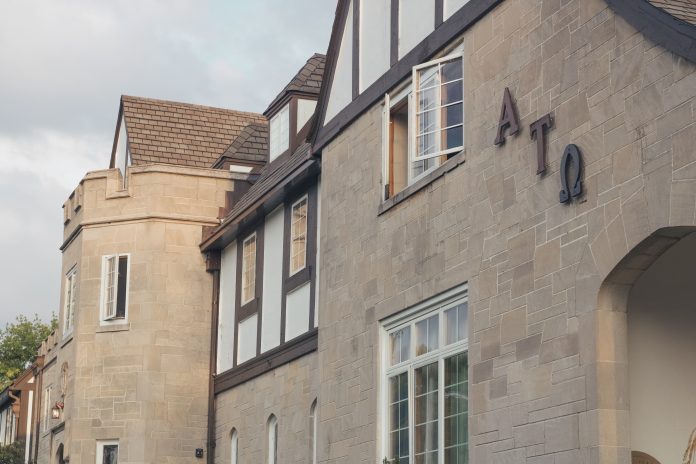 Despite fears of lower registration numbers, all Panhellenic sororities on DePauw's campus hit their quotas of 26 new members each, according to Nick Stepaniak, Campus Living and Community Development coordinator, who advised both Panhellenic and Interfraternity Council recruitment (IFC).
As late as Dec. 5, Panhellenic had only 75 first-year women registered. The number rose to 183 in the weeks leading up to recruitment and, according to Panhellenic adviser Destiny Hand, this year's new member size was the exact same as last year's.
Among first-year men, 163 were recruited.
The formal Greek recruitment process for 183 first-year women and 163 first-year men began on Jan. 25 and 26, according to Stepaniak.
Formal recruitment included three rounds over three days that allowed participants to visit every chapter on DePauw's campus. Students spent anywhere from two to seven hours participating in the recruitment activities for the day. IFC recruitment began on Jan. 25 and ended with bid night on Jan. 27, while Panhellenic recruitment lasted from Jan. 26 to Jan. 28.
Despite their interest in Greek life, not all 312 first-year men were eligible for recruitment. Sixty-nine of these first-year men did not meet the set IFC minimum of a 2.5 GPA, according to the IFC Vice President of Recruitment Ben Kusber. Due to the lack of a Panhellenic GPA requirement, all 306 first-year women were eligible to go through the formal recruitment process.
Even though Panhellenic recruitment lacks a GPA minimum, individual chapters have a set requirement based on their chapter's nationals.
KJ Holden, Panhellenic vice president of recruitment, acknowledged that students may struggle in their first year, but sees the GPA requirement as a way to encourage healthy competition among Greek houses. "I understand that people struggle freshman year; it's a big transition. I did, and other people did too, so I understand," Holden said, "but I also think it's good to have that minimum GPA because you want to make sure you have academically-driven people in the house since that's what we're here for."
The GPA requirement, however, was not the only reason more students did not participate in Panhellenic and IFC recruitment. More than 200 first-year students were eligible to go through this process, but chose not to participate.
Stepaniak attributes this to the rising international-student population on campus. "Fraternity and sorority life is such an Americanized thing," Stepaniak said, "and, because we have such a large population of domestic students of color and international students now, we need to explain what it means to be in Greek life and why they should join."