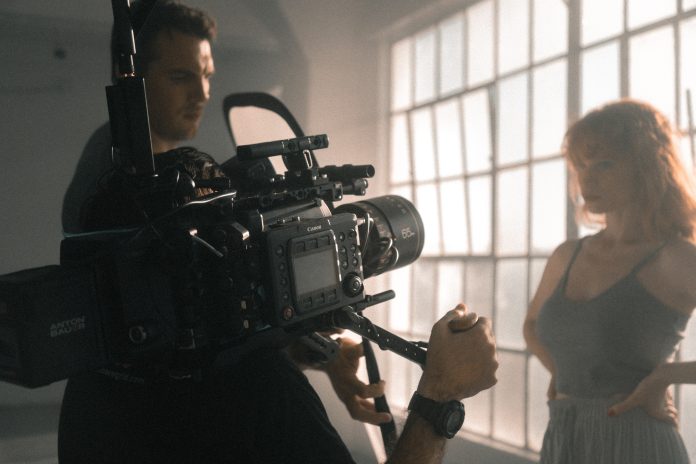 On Wednesday, Feb. 23, 2023, Christian Rozier, assistant professor of film and digital storytelling in the School of Visual Studies at Missouri University, brought his expertise as a media professional to the Pulliam Center for Contemporary Media. In his workshop, "Navigating the Film and Media Industry," Rozier took a practical approach by providing crucial information for students to assess their readiness for careers in media and film. The workshop was executed through a four-step guide that called on students to "map the landscape" of the film and media industry, "take inventory" of their personal preferences, "chart a course" towards professional development and "start walking" on that path. The following guide is a recap of the essential takeaways from each step.
Map the Landscape
In order to map the landscape, it's important to be aware of the positions available within film and media. The film and media industry is extremely broad so being knowledgeable of what part of the industry you aim to be a part of is vital and this can only be achieved through self-assessment. Kyung Min Lee, a junior film studies major said, "Rozier helped me revisit ideas in detail and pushed us to take actionable steps. He definitely encouraged us to know what we want to do and what kind of path we can take."
Take Inventory
Victoria de Dios, a senior film studies major said, "I think the best part about the workshop was when he started asking us intuitive questions about what we want because you don't really ask yourself if things are real and having to understand what factors film professionals consider was very impactful." Taking inventory, in this case, is the assessment of self. Some key questions Rozier asks students to consider in the assessment of themselves are:
How important is financial stability to you in the first 1-2 years of your career?

How important is creative autonomy to you?

How important is the stability of your work schedule?

How important is the frequency of new and diverse work experiences?

What is your general risk tolerance?

In what location do you want to be at the start of your career?
Chart a Course
Charting a course can be done by browsing positions and roles you would be interested in applying to on websites such as Mandy.com and ProductionHUB.com. These sites are beneficial for creating a digital portfolio where your work is searchable and can be found by potential employers.
Start Walking
This step is the most self-explanatory of the workshop. Start doing and start creating to hone your employable skill set. Additionally, it is essential to start publishing your creative works through the creation of a digital portfolio that can be found by potential employers.
This workshop was produced through a collaboration with the Film and Media Arts Program, the Hubbard Center for Student Engagement, and the Pulliam Center for Contemporary Media. For more information on Christian Rozier and his work in the film and media industry please find it here.