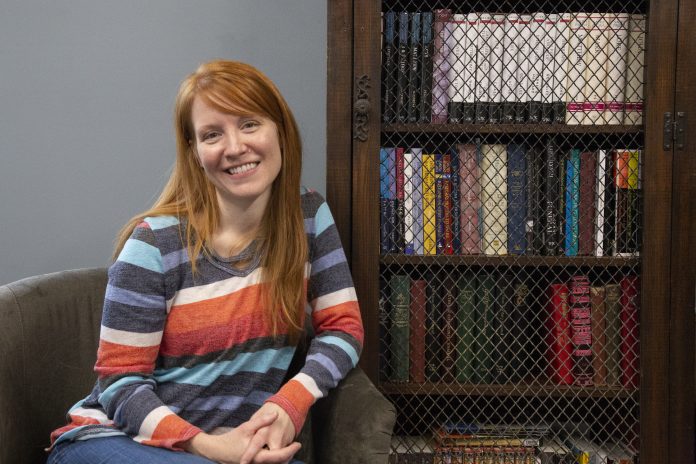 Reverend Maureen Knudsen Langdoc is both a scholar and a pastor. As one of DePauw's university chaplains, her role allows her the opportunity to combine her scholastic ambition with her pastoral ministry experience.
Langdoc is the ordained clergy of the United Methodist Church and was appointed in 2014 by the United Methodist Church Bishop of Indiana to come to DePauw due to the University's Methodist heritage.
"I love that I get to do pastoral ministry in the midst of a university," Langdoc said. "I love working with college-age students and being a part of a place where questioning is such an integral part of who we are as a community is life-giving to me."
During her time growing up in Minnesota, she was not exposed to women holding clergy positions within the church.
"When I was a kid, I asked my mom if thinking could be a hobby, because if it was, I thought thinking was one of my hobbies," Langdoc recounted with a laugh.
As a first-generation college student, she pursued a double major at Greenville College in Philosophy/ Religious Studies and English.
"My experience as an undergraduate student was really formative for me," Langdoc said. "It was a place of discernment and exploration and asking big questions. The chance to be in conversation and journey alongside students who are doing that themselves is a gift to me."
Upon completing her undergraduate degree, Langdoc received a Fulbright Fellowship to Mauritius, an island nation in the Indian Ocean. She then received her Masters of Divinity in 2007 from Duke University and recently received her PhD in Theology and Religious Studies from Kings College London.
"I love processing ideas and wondering about the world, and contemplating the meaning of everything. DePauw is a place where I get to continually do that. I love learning, so to get to be on a college campus is inspiring for me," Langdoc said.
As the University Chaplain, her role encompasses a variety of responsibilities from providing confidential pastoral care for students, staff and faculty to leading a group of chapel interns.
"While my role as university chaplain does entail specific support of Christian student programming, I also have the joy of helping provide spiritual care to members of the campus and community from various faith traditions and to those who do not identify as religious or spiritual," Langdoc said.
In addition to the many titles that Langdoc carries, she is also a mother to four children. She and her husband, Bryan, who is the pastor of Gobin United Methodist Church, met during their time as students at Greenville College.
Langdoc said, "As a mom, I am so thankful my young children can experience and celebrate religious diversity at DePauw."