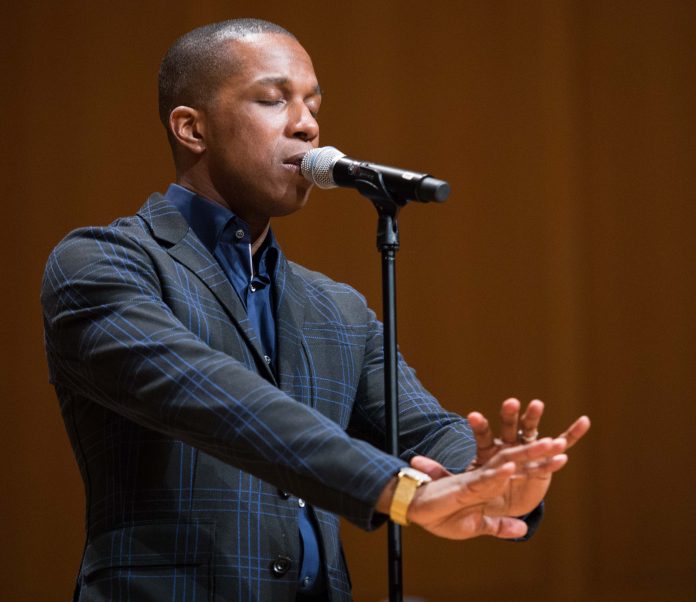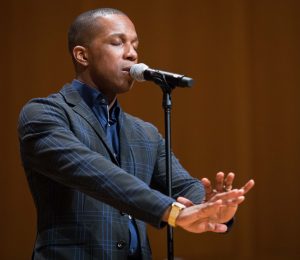 Hours before the first Ubben Lecture of the 2016 school year, students were camped out in the Green Center for Performing Arts, waiting anxiously for Leslie Odom Jr.'s speech, "Finding Your Spotlight."
Their patience and perseverance paid off as Odom captivated an audience of hundreds inside the auditorium Tuesday night, as he provided a mixture of tales, song, humor and advice for more than an hour, ending in a standing ovation. "I just love the man," said sophomore fan, Laura Francisco. He also provided a few hugs to several members of the audience.
Odom won the 2016 Tony for Best Leading Actor in a musical for his performance of Aaron Burr in the musical "Hamilton."
Susan Anthony, professor of theatre and communications, introduced Odom to the audience, listing his many roles on television, film and theatre.
Odom was greeted with a thunderous applause. Odom first explained the concept of finding your light, which originates in theatre, referring to when an actor must be in a predetermined spotlight during a scene.
Odom then spoke about the "interdisciplinary" nature of "Hamilton," saying, ""Hamilton" was not an easy show to mount." Odom said the role required him to be consistently working at his absolute best and focusing on all of the show's elements for the entirety of each performance.
His journey towards acting actually began during his fifth-grade history class where his teacher pointed him in the direction of public speaking and oratory. Odom joked that before his teacher he was "painfully ordinary," but with her help he discovered his love for performing.
Odom's big break was when he auditioned in Philadelphia for the musical "Rent" at age 17. Odom admitted he never expected to get the role, but rather wanted experience auditioning. "There is a moment when you're finding your path and you just have to have the courage to stand in the middle of that thing (your light)," said Odom.
After his run of "Rent" finished, Odom went to school at Carnegie Mellon University where he graduated with honors. Odom learned an important lesson in regards to other people and how they impacted his self image. "My light is not dimmed in the least because of how bright a person's light is," said Odom. In fact, Odom graduated with many other big names such as singer Josh Groban and actor Josh Gad, but said he never let their success overshadow him.
After he got his degree, Odom moved to Los Angeles where he struggled with his acting career. Odom felt he was not really doing much with his time and wanted to do and be more. "I got tired of other people's works inspiring me and not my own, I got tired of the stage and the glam. I worked all the time, but my work was boring," said Odom.
During a conversation with a mentor, Odom revealed a piece of advice he received that changed his life. When he mentioned thoughts about quitting acting, his coach, Stuart Robinson, replied: "First, I'd like to see you try." Odom said this was the best piece of advice he has ever received, and emphasized the importance of working towards one's own goals and being dedicated and passionate in your work.
Odom spoke about what it was like working in the hit musical "Hamilton." Odom discussed his immediate love for the musical as well as the two songs, "Wait for it" and "Dear Theodosia."  The first time Odom saw the musical performed was at the Powerhouse Festival at Vassar College in Arlington, New York. "I felt the same way about it as you feel, you know when I first heard it I fell in love with it and it just felt that from the opening chorus, from the opening chords, from the opening lines of that show," said Odom. "I knew this is the revolution, this is the future of musical theatre."
As part of his lecture, Odom performed two songs with his band. Odom introduced Michael O. Mitchell, class of 2002, who plays piano in his band. Odom asked Mitchell about his favorite part of DePauw. "My favorite part of DePauw was graduating and then coming full circle," said Mitchell. Odom then went on to sing "Look for the Silver Lining," by Chet Baker, and the "Hamilton" hit "Wait for it." Once he finished, Odom received a standing ovation from the audience and thanked DePauw on his way off the stage.
Many people left the theatre feeling inspired and wanting to do more. "I thought it was really inspiring as a person who does music and theatre, I thought the whole idea of just being your complete self I just thought that was amazing, " said senior, Hannah Joy Gauther. "You don't really think about presenting yourself all the time, so I loved it."
The highlight of Odom's speech was when he told a story about first learning the choreography for the song "The Room Where it Happens," he needed to be in the center of the stage in order to be in the spotlight, which quickly contracted to the deadcenter only. Odom worked to make sure he could be in the center of the spotlight for some time, and was struggling with the whole concept.
During a performance, he said he became aware of his surroundings and saw the spotlight, which was slightly to his left, while he was in the darkness, and just hopped into it. "I encourage you to find your light, and if you have to just jump, stand right in the center; it just takes some courage. " said Odom as he jumped into the center of the stage.