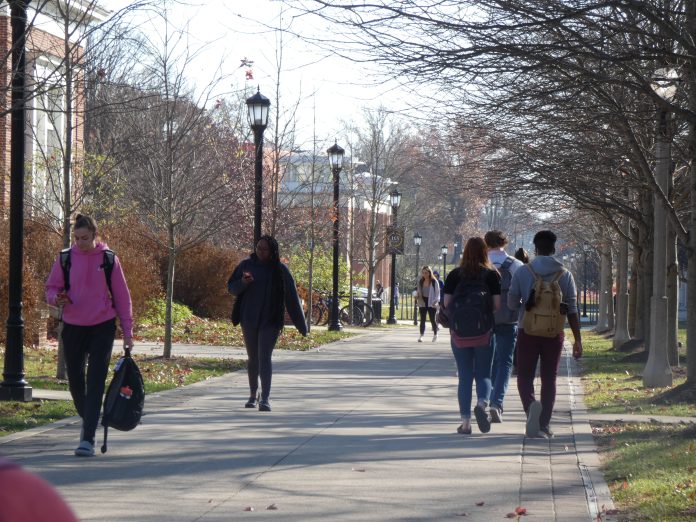 DePauw claims to be a campus that "strives to maximize student potential by providing reasonable accommodations" to students with disabilities, according to the DePauw Student Accessibility Services website. However, DePauw's aging buildings and inaccessible residence halls tell a different story––one that often ignores the day-to-day needs of students with disabilities. Despite these issues, inaccessibility is rarely discussed on campus, and disabled students' voices go unheard.
One of the biggest obstacles to accessibility on DePauw's campus is that many of DePauw's buildings are inaccessible to disabled students. Maggie Galloway, a first-year who lives with a nervous system disorder, stressed this issue in our discussions. Galloway is an ambulatory wheelchair user, meaning that they alternate between using a wheelchair, using a cane, or not using a mobility aid at all, depending on pain levels and other factors.
Regarding physical accessibility at DePauw, Galloway said, "It's lacking, to say the least. The ramps are often too steep, the buildings barely manageable."
They noted that even in Jordan, the newest residence hall on DePauw's campus, the elevators often break down or need repairs, leaving Galloway unable to get to or leave their dorm. Even the new Roy O. West library has accessibility problems, according to Galloway.
"The ramp out front is too steep; the buttons in the elevator aren't super accessible to those with fine motor issues; the desks are too short for a standard wheelchair to roll under," they added. All of these issues make DePauw's campus difficult to navigate for Galloway and other students who use mobility aids.
Senior Hannah Schrock has also noticed DePauw's inaccessibility throughout her time on campus.
"I'd say DePauw is one of the more inaccessible campuses I've seen," Shrock said. "And I think part of that comes through the want to preserve the historical features of the campus. Many of the buildings on campus don't have accessible entrances, elevators, or even accessible bathrooms. This really limits the types of individuals that DePauw can invite on their campus, which creates a lot of exclusivity."
Maia Casterline, a sophomore, lives with severe allergy-induced asthma and nerve damage. In her experience on campus, Casterline has had major issues with DePauw's housing. She spoke about how her asthma impacts her living situation, stating, "Because I have allergy-induced asthma, things like mold and dust . . . are really bad for me and they affect me differently than an able-bodied person. . . I will say, breathing accessibility is kind of iffy on campus because of the HVAC systems."
Casterline's asthma also makes it difficult for her to climb many flights of stairs, which became an obstacle for her when, in her first year, she was placed on the fourth floor of Lucy Rowland Hall. Both the lack of an elevator and the existence of allergens in Lucy made it necessary for Casterline to move to Jordan Hall a few weeks into her first semester.
Accessibility is about more than just physical accommodations, however. Galloway, Shrock, and Casterline all mentioned a lack of acceptance and education about disabilities on DePauw's campus. Student attitudes toward disabilities vary but often are exclusionary toward disabled students.
"A lot of people are stuck in an outdated mindset when it comes to their perspective on disability," Galloway said, citing many experiences with students and faculty who are quick to "make assumptions" about Galloway's abilities.
"When it comes to professors, it's especially a toss-up. I've had professors who were resistant from the start when it came to my accommodations, and other professors who have gone out of their way to ensure I can be as included as possible in their class. . . Working with professors who actively resist the changes necessary for me to participate can feel incredibly dehumanizing."
Casterline has also noticed a negative attitude towards disability on campus. "I feel like on campus, among the student body, there is a stigma against disabled students, whether it's conscious or unconscious . . . There's visible and invisible disabilities, and so there's a lot of skepticism, especially with disabilities you can't really see. Sometimes I can't get out of bed, and it's hard to communicate that with my professors confidently because I feel like they just don't see that I have asthma."
Casterline, whose asthma often makes her extremely ill and unable to attend classes, shared that she often feels anxious about attendance policies and worries that her grades will drop due to her illness.
Shrock also discussed her issue with professors' attendance policies, stating, "I think DePauw should place a ban on attendance policies. I've had many professors that have had attendance policies and it's extremely inaccessible . . . It's not worth it to me to wonder every day that if I have to miss class due to my health issues, my grade is going to get severely penalized for it. It's unnecessary anxiety that creates an exclusive environment."
She also recalled the feeling of loneliness that comes with being disabled on campus: "I struggle most in my academic experiences. I'm a STEM major and STEM curriculums truly aren't made for disabled individuals . . . I'd say I also feel pretty isolated on campus . . . There are few clubs that are outwardly targeted to those with differing ability and it can get lonely."
All three students agreed, however, that DePauw's Student Accessibilities Services have been helpful throughout their time at DePauw.
"The accommodation office has been incredibly helpful to the best of their ability," Galloway said, "but the university could absolutely afford to put more funds toward the accessibility department."
Shrock also finds DePauw Accessibilities to be helpful, but, like Galloway, feels the department is limited in what it can do.
"I think DePauw has done a great job in forming student accessibility services. They've always been incredibly helpful to me, but again, there's only so much they can do when the campus itself is inaccessible," Shrock said.
Casterline mentioned that DePauw Accessibilities has been helpful to her, but that getting help can be a difficult process, requiring doctor's notes and documentation that are not always available to some students.
Overall, other than the quality of the accessibility department, Galloway, Shrock, and Casterline have found DePauw's physical accessibility lackluster. When asked how DePauw could improve its lack of accommodations, they all had slightly different suggestions. Shrock emphasized her concerns about class attendance policies, expressing her desire for them to be banned by the administration. Galloway, on the other hand, listed benches and accessible seating as a priority, along with better housing accessibility and representation for disabilities on campus.
"There should be input from disabled students and people when designing and
constructing those [on-campus] buildings," Galloway said. "I'm hoping I'll be able to start a student organization for students with disabilities and chronic illnesses, but right now that doesn't exist for us. Change will come with representation and visibility.
Casterline's wishes were similar, emphasizing better housing and on-campus education.
"I would like for people to understand disabilities are a huge range of things. They can be visible or invisible, diagnosed or undiagnosed, anything that impairs your functioning compared to your able-bodied or able-minded peers," Casterline said.
As DePauw continues to renovate and revitalize its buildings, such as the recent renovation of Roy O. West and the current renovation of the first floor of Harrison Hall, we as a campus community can continue to advocate for accessibility and listen to the voices of disabled students. By involving disabled students in decisions regarding building accommodations, making an effort to increase disability education and representation, and continuing to support and listen to disabled students, we can make our campus a safer, more accessible place for years to come.