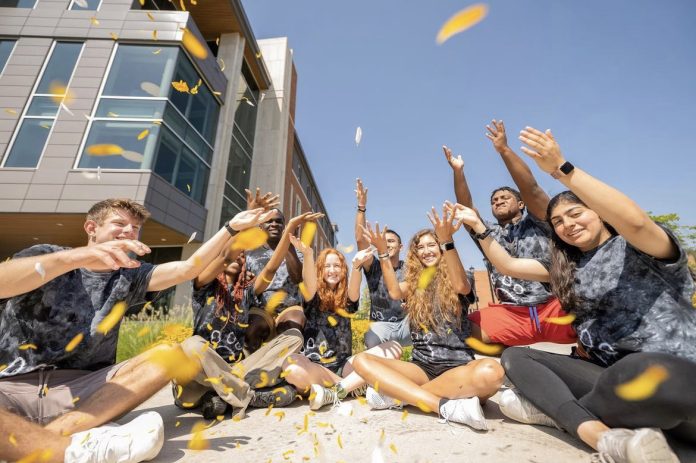 The transition to college is a tedious process for students and parents alike. With excitement and nerves, students slowly integrate themselves into their living environment. Behind the scenes, resident advisors (RAs) work tirelessly to help these students.
Sophomore Emiliano Quintanilla is a resident advisor on Jordan Hall's third floor. His inspiration behind becoming an RA comes from his tough experience as a first-year far away from Houston, Texas. Luckily, Quintanilla had a great group of friends to support him during his transition.
"Knowing how difficult it could be moving into college made me want to become an RA because I wanted to help incoming first-year students get comfortable with the new environment of college and be the person they can go to whenever they needed someone to talk to because that was exactly what I needed when coming into DePauw," Quintanilla said.
Sophomore Ryan Miller described his motivation behind becoming a resident advisor.
"I was drawn to being an RA because the relationship I had with my RA wasn't the best. I want and will continue to give first-year students what I never got, a welcoming and warm experience, plus a friend," Miller said.
Sophomore Emily Perez's experience as a first-year was heavily influenced by her RAs. According to Perez, they helped her make the transition less stressful.
"There were circumstances where I needed assistance and with no doubt, my RAs were there for me. It didn't have to be academic, but also the emotional aspect that also impacts us as college students. I, therefore, decided that I wanted to become an RA because many freshmen go through hardships, and being there for them encouraged me to be an RA," Perez said.
Miller said his move-in experience as an RA was fantastic. He particularly enjoyed talking to new students and parents, sharing in the excitement of starting college.
As part of the move-in process, Quintanilla sat in his respective room to make sure he was available to help any of the first-year students with any questions or concerns. Being integrated into the living environment allowed Quintanilla to get to know his floormates and for them to know him.
"My favorite part about being an RA is seeing the community built around you. It's awesome to see how when everyone first moves in, everyone is shy and afraid to get to know the people on their floor as everyone tends to stick with their roommate. However, it's great when you start to see your floor get along with each other and everyone starts to become friends," Quintanilla said.
Perez mentioned how all of the RAs attended a meeting before the move-in day in order to make it easier for their residents.
"Before residents arrived, we had to do door decks, prepare our bulletin boards, and prepare for our first-floor meeting. On the day of moving, all RAs were required to be in their designated floor. RAs were responsible for directing students to their rooms, checking up on how things were going for them, and welcoming them," Perez said.
Quintanilla has had some of his favorite memories from floor activities during his time so far as an RA. Being able to see an entire community together is particularly rewarding for Quintanilla.
"Some examples of things we have done for our floor are karaoke night, pumpkin painting, hot chocolate and movie night, and a couple of other things. These stand out the most because it gives everyone a break from school, clubs, athletics, whatever may stress someone out," Quintanilla said.
Perez's most memorable experience as an RA came from her time on campus over the summer. All of the RAs attend a required summer institute to get trained and prepared for the year.
"Most of the time I would get to bond with my other RA co-workers which has helped me build a stronger relationship with them. We would do activities, play games, help each other out, teach one another, and be a support system. I never thought I would be this close with my RA team, and I just know that I can count on them," Perez said.
Miller advised not to become an RA if you're only looking for housing, otherwise, you won't have a good time. Instead, he added that the RAs that thrive the most are the ones who love to be around and bring happiness to others.
Quintanilla's best advice for future RAs is to have patience. He said that there may be times when people push your buttons and test your limits.
"However, at the end of the day, you must remember that you will always have to be the bigger person in every situation and that you are viewed as a leader on this campus, so you must act like one at all times. Even if it's something that really gets under your skin," Quintanilla said.
Perez suggested prospective RAs remember to take care of themselves as RAs. She thinks with all the activities and responsibilities, RAs often forget about themselves. She encouraged just having fun as an RA.
"Get to know your residents, make fun floor programs, and be willing to be open with your residents. It most definitely helped me to not make my job hard or overwhelming," Perez said.