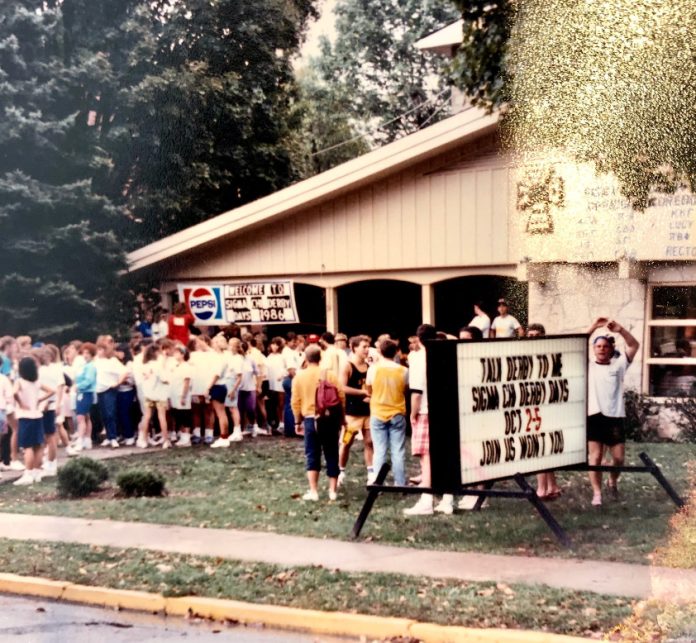 Old photographs paint a picture of what it was like to be in a fraternity at DePauw over the years. Shared stories and memories of Greek life alumni give new perspectives to these images–giving insight into fraternity life at DePauw in the 1980s.
Jim Browne started his college journey at DePauw in the fall of 1987. Browne majored in communications and minored in English literature and Spanish. After graduating in 1991, Browne went straight to law school and has been practicing law in Indiana since 1994.
During his first year, Browne rushed and joined Sigma Chi Fraternity at DePauw. For Browne's first year and any year before 1990, the formal rush ran immediately for a week before school started. Boys then moved from their dorms to the fraternity house to live for the rest of college.
"Unlike other schools, DePauw's Greek system offered anyone that wanted to be in a fraternity or sorority a chance to pledge. Then throughout the year, we interacted with other living units, independents, and fraternity/sorority houses. We really were not insulated to just socializing with our own house," Browne said.
Browne remembers first moving into the fraternity house waiting on active members of the house to come and get him. He sat alongside three to four guys wondering what he just joined. Ultimately, Browne said those guys ended up being lifelong friends.
Browne has had several memorable experiences from his time at the Sigma Chi Fraternity. As a first-year, he helped organize Derby Day events for philanthropy. Some of the events during Derby Days included trying to catch greased pigs and talent shows, among others.
"One was the tug of war and as we were taking the rope out to the side of our house, we noticed a guy running a backhoe across the street. We asked him to come over and dig us a huge pit that we filled with water and turned to mud. That was a surprise hit that we had a lot of fun with," Browne said.
In addition to Derby Days, Browne mentioned that living units competed in intramural sports and for the highest GPA. Browne also mentioned that drinking and hazing were prevalent in Greek life during his time at DePauw. He said that he was thankful that there were no bad hazing accidents or serious health problems that resulted from this.
"I loved being in a fraternity and maintain that DePauw needs a strong Greek life. I met lifelong friends that still inspire me. I learned to interact with adults, school personnel and the public. I realize parts of the Greek life we experienced needed to change, but there is still room for a Greek system that should be embraced by the University. It is a healthy option for students that want to participate and a huge draw for kids that are interested in attending DePauw," Browne said.
Dan Dunaway graduated from DePauw in 1986 with a major in biology. From DePauw, Dunaway went onto medical school and is now practicing as an orthopedic surgeon. His rush experience was similar to Browne's when he rushed Phi Delta Theta in 1982.
"We went through rush as a group and had a 'rush counselor' that took you through each house. The counselor was a frat member but you didn't know which house. This was the topic of much speculation amongst the guys in the group as to what house we thought he was in. I admired that position so much that I became a counselor as a sophomore, ran rush as a junior and was IFC President as a senior," Dunaway said.
Because of his position in the Interfraternity Council, Dunaway never experienced rush being in the house. Dunaway says most of his life in the fraternity was similar to fraternity life these days–predominantly studying during the week and partying on the weekends.
"I had friends in almost every house, but that could have been partly because of my involvement in IFC. Intramurals were also a lot of fun because it was house versus house. Being part of a fraternity was very important to me and shaped my college experience as most of my friend group was from my house and even more so from my pledge class," Dunaway said.