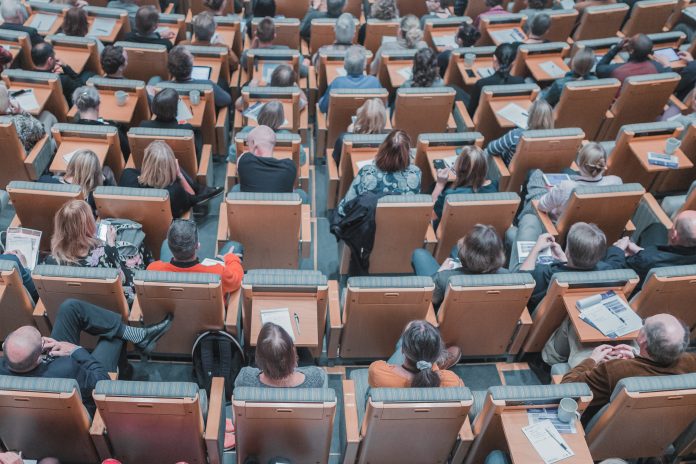 Correction: In an earlier version of this article, The DePauw misquoted professor of history Nahyan Fancy on the increase in class sizes, Fancy said that the class sizes increased from 30 to 35.
In a meeting that was barred from media, faculty members met with President Mark McCoy and other administrators Tuesday to discuss a decrease in an expected salary hike and to urge greater transparency on the part of the administration.
The purpose of the meeting was to share with staff and faculty the current financial status of the University and to provide the faculty with information on how the budget and higher education financing works, said Glen Kuecker, professor of history
Many feel faculty members need a louder voice in the University's financial matters.
Not everyone was satisfied with the information that was shared at the meeting. "If the administration's goals for this meeting was to give us information, it was the same information that we've had every year since I've been here," said Susan Hahn, English professor.
Keucker said over the past few years, faculty members have worked with administration to give faculty a greater voice in the process of recruitment, review and retention of senior administrators. Those proposals have been watered down, Keucker said.
He said that having faculty create their own proposals seems like a good idea, but when it comes to negotiating and implementing the suggestions the process begins to stall. "As one who has been directly involved in those processes on the governance committee— I'll be honest about it— I've kinda lost faith in the process," Keucker said.
Tuesday's meeting stemmed from an email sent to President Mark McCoy from several faculty members, in response to McCoy's email, sent June 18, in which he notified faculty and staff that a 2 percent expected increase would be only 1 percent. In that email, McCoy also noted that salary decisions for the next academic year were being pushed back until October.
The faculty email argued against McCoy's reasoning behind his decision, and referenced calculations made from the 2012 university budget. These computations approximated that only 1/96 of the budget used for salaries is unknown prior to the beginning of the academic school year.
And, "if the salary increases and/or faculty hiring is determined based on the fluctuations of just over one percent of the total operating budget, then we think the administration has made it abundantly clear that faculty positions and salary are literally the last thing on the administration's mind," the email stated.
Nahyan Fancy, associate professor of Middle East/Comparative History and Faculty Development Coordinator, was another faculty member who signed the letter.
"It wasn't the fact of the 1 percent salary solely that was being contested, but the explanation provided for it. Moving those decisions to October was the main point of the letter, though many other points were also raised," Fancy said in an earlier email with The DePauw.
Some of the other points raised by the faculty in the email included the "lack of faculty replacements due to retirements," and "the rising cost of a DPU education for students because funds are not being raised and spent appropriately."
In an earlier interview with The DePauw, McCoy said that students would probably not be informed of budget issues as they relate to faculty. "Students have enough to focus on getting their own education, you want to make sure they have time to keep their focus."
But Fancy disagreed, pointing out that toward the beginning of the academic year, the registrar emailed faculty to inform them that there were 90 students who still needed more classes because of the shortage of faculty members. "So now, your education is being impacted," said Fancy. "The classes that used to have 25 now have 30. Classes that have 30 now have 35. Of course, we as faculty are very conscientious of this and we are work hard to make sure that doesn't hurt you. But let's be honest, it does still make an impact."
Not only did Fancy point out the implications in the classroom, but he also referenced last spring's racial bias incidents.
"Let's be clear, the issues on diversity do not stand apart from this. Maltreatment, mistreatment, disregard for faculty and staff, and forcing students to pay more and more, produces very awkward and odd dynamics on campus. That has an impact on diversity and inclusion, along with many other things," he said.
Though seven faculty members signed the email, Fancy reiterated that the letter was a collective effort. And already by the evening of last Tuesday, over 20 faculty and staff members had responded in support of the email.
Emma Mazurek contributed to this story.