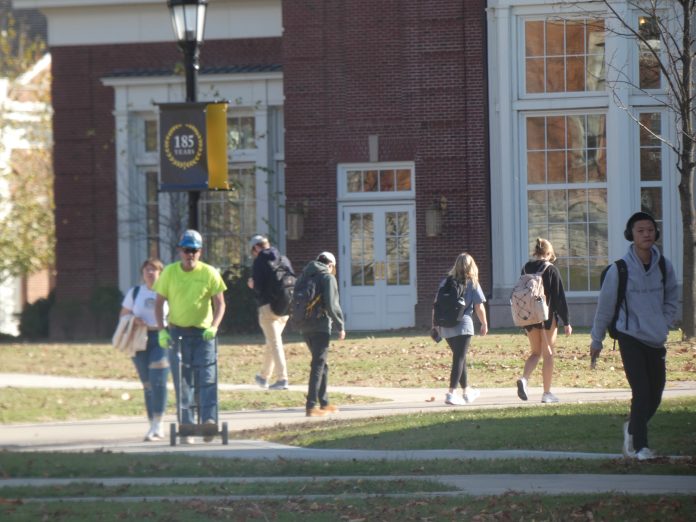 Around the end of the Fall semester of the 2022-2023 year, Feminista! had a general body meeting, as they do every other Thursday. In one particular meeting, the concerns of students and their living conditions were discussed. Henceforward, two individuals took it upon themselves to take action, which has led to an event to be planned with Feminista! and the Student Housing Action Committee (SHAC). The date is yet to be determined.
Jay'la Teasley, a sophomore history major, said that the housing disparity situation is essentially the event in which certain communities are being neglected by facilities and housing residence life.
"In the summer when I was on campus, it was really hot and my air conditioning wasn't working. A week after, I had filled out my request was when facilities finally came and they said they fixed it, but it wasn't fixed, so then I had to fill out another form," Teasley said. "When they came again, they said they had to come back to get a part for my air conditioning, but they never came back so I just left it alone after that."
"Addressing housing discrimination disparities at DePauw" is the title of the form that Teasley and Aiden Garcia-Pico created. Teasley said that one day when they were studying, they ended up talking about their living spaces and Garcia-Pico shared how they had different types of issues when it came to their living spaces.
"We realized that this was a prominent issue and thought maybe we could do something because the communities deserve better, so we brought it to Feminista," Teasley said.
According to Garcia-Pico, "The housing disparity issue is an issue of housing discrimination that's been faced by students from Facilities Management as well as the institution of DePauw. It's an issue of accessibility to certain resources that are usually afforded to students in IFC and Panhellenic associations."
"I think this comes from an overall neglect and dismissal from Housing and Residence Life at DePauw and I think it comes from there being a huge gap in communication and understanding of the student experience within the student body that occupies multicultural Greek housing, NPHC housing, university owned, and duplex housing," Garcia-Pico added.
They said this was an issue because it affects the quality of life of students of color and students who choose not to rush.
"When you don't have access to a safe living space or the comfortability of your own home, or even the accessibility to certain resources that are granted to other students, it will impact your overall performance as a student in social and academic life," Garcia-Pico said.
When asked why they felt the way they did about this issue, they gave examples of their experiences. They talked about how one day when they were showering, they noticed the shower door had trouble opening and in an effort to open it, the shower door fell in on them.
"I had to take the entire door frame and steady it so I could get out; this also happened to my housemate," Garcia-Pico continued.
When putting in a request with facilities, they said that facilities ignored the request for a new shower door on multiple occasions. After many failed attempts, it was finally replaced.
Maya La Croix, a sophomore prospective political science major, and Jade Karas, a sophomore double major in chemistry and art history, co-founded the Student Housing Action Committee (SHAC). To read more about SHAC, click the link here to find out more about their initiative.
Karas spoke about how she had to go to Jordan Hall to shower because the water in Lucy kept leaving a film build-up in her hair that made it look like she hadn't washed it.
"Going throughout your day as a college student is already hard enough, so knowing that other people could tell that my hair looked unclean was difficult," Karas said.
La Croix added, "It's a dehumanizing experience to wake up in the morning, get out of bed, and want to shower, but not have a shower door in the bathroom, or go down to wash your clothes and there will be mold in the washing machines."
La Croix spoke about how SHAC is about trying to transcend the experiences that they were having and trying to make housing better for future students.
"We know that we probably won't see the fruits of our labor anytime soon," La Croix said.
In an attempt to hear from Housing on the matter, I connected with John Mark Day, vice president for Student Affairs and dean of students.
"I want to make sure that students know that if there are issues in the residence halls that need to be cleaned or repaired, they can put in a work order in eServices. That way our facilities team learns about the issues and can work to correct them. Students' RAs should also be able to help put those work orders in," Day said.
"As a part of the Bold and Gold Strategic Plan, we are taking a look at all of our on-campus housing and working to create a long-term model that helps us to achieve the exemplary student experience here at DePauw," Day added.