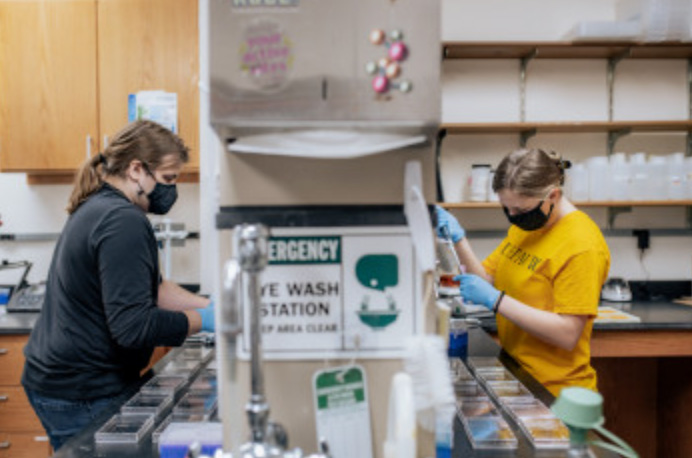 As undergraduates, finding research opportunities can be daunting. At DePauw, however, students are well integrated into research. Junior Ethan Zaleski first got involved with research by reaching out to his professors.
"I was able to get involved in research by reaching out to professors to see if they had any open positions in their research groups. Fortunately, Professor Gourley had an open spot in her research and brought me on to help continue the project and work on a part of the project that seemed interesting to me," Zaleski said.
Zaleski helps work with reverse micelles and nanometer water droplets to understand how water behaves in confined environments.
"Reverse micelles are nanoscopic pools of water that are encapsulated by a surfactant. I was particularly interested in how the osmolytes formamide and methyl formamide impact the Reverse Micelle system," Zaleski said.
Zaleski said his work is fairly relaxed. He does some of the work outside the laboratory, reading scientific literature to better understand the work, but he spends the majority of his time in the lab, usually three to six hours.
"I hope to gain the skills necessary to succeed in a chemistry-related field after I graduate from DePauw. I also hope to have fun because that's also what it's about. I really enjoy working in the lab and trying to solve problems where we don't necessarily know the answer," Zaleski said.
Zaleski said his least favorite part about student research is spending time comprehending scientific readings to better understand the research he helps with. Although dense and tough to read, Zaleski said they are integral to gaining professional insight into lab procedures.
"That could mean a technique that we should be using, a method of analysis that we aren't using but should be, or even a chemical that might help us obtain the results that we can draw meaningful conclusions from," Zaleski said.
Despite the reading, Zaleski loves being able to problem solve, as procedures usually go more wrong than right. He said these moments are crucial to the laboratory process, as they allow for adaptation and growth.
"The most memorable moment for me was last semester when I had to make a poster presentation about my work on the project and present it in front of the chemistry department. It was definitely a lot of work, but it was worth it to learn how to present scientific information in front of people," Zaleski said.
Junior Sebastian Manrique similarly got involved in research by reaching out to his professor about opportunities that would fit his schedule.
"As a pre-med student, I was eager to do student research because it is a strong addition to someone's medical school application. Moreover, I sought to explore new research topics and techniques while strengthening the skills I developed from my various labs," Manrique said.
Junior DeJuan Jones first got involved in research when his professor and academic advisor, Dr. Richard Martogilo, heard Jones express interest in obtaining his Ph.D. in chemistry. Dr. Martogilo introduced Jones to the lab, which he found interesting and joined immediately.
Both Jones and Manrique work using high-performance liquid chromatography to figure out various concentrations of acetaminophen in Tylenol.
"Inside the lab, there weren't any separate roles. Every student had the same role, which was to collect data and present it to our PI to see if it was accurate enough to move forward to the next step," Jones said. "If the data was wrong, each one of us would use different strategies to see how we can get the most accurate data possible."
By working in the lab, Manrique hopes to be exposed to a variety of research instruments and methods. He also hopes to develop his medical school application by engaging with such intriguing research.
"I really enjoy the collaboration aspect of student research as it allows for everyone's distinct ideas and approaches to be shared within a research group. In all honesty, there's nothing that I don't like about student research," Manrique said.
Jones' main goal to prepare for his Ph.D. has been to learn how to use and apply new concepts. He says conducting research at DePauw has been integral in that process.
"My favorite part about doing student research was the flexibility. Being able to conduct and run experiments while also having time to do other tasks and activities. My least favorite part was having to start the entire project over because the data was not correct," Jones said.
Jones' most memorable experience during his research at DePauw has been watching the NCAA women's volleyball tournament during his research.