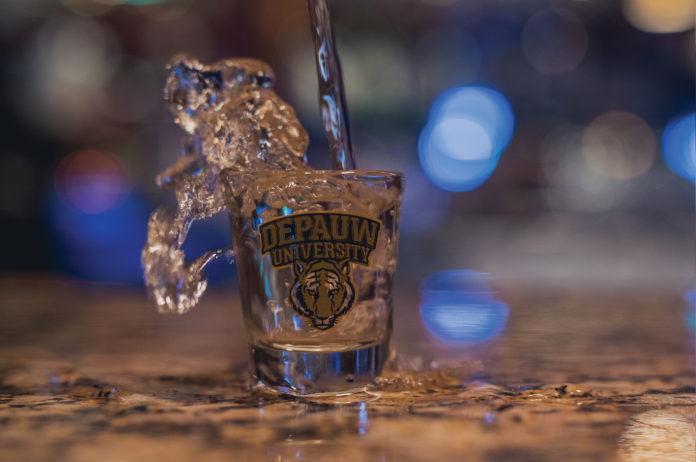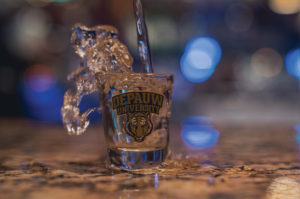 The number of hospitalizations this school year has risen to 22, proving that the problem of binge drinking on DePauw's campus is not going away, but how can the problem be solved?
"It's a lot of throwing darts at a dartboard seemingly in the dark," senior Sigma Chi president Robert Sherman said.
"There will never be zero hospitalizations at DePauw," sophomore Ford Atkinson said.
"It's a game of figuring out what's going to stick," Erika Killion, senior student body president, said.
As administrators continue to try and crack down on the problem, students continue to share their support for or opposition to the policies that have been put in place thus far.
Sherman believes student leaders and administration are working tirelessly to find a solution to this problem. "It's not as if efforts aren't being put in place, but I think there's still a lot of question marks out there about what exactly needs to be done and I don't think many people do know that," Sherman said.
Atkinson believes DePauw will always have a problem with student drinking; however, he thinks further education can help. "...it would be good to have those [educational videos on drinking], or a mandated drinking class where people learn more about what's going on instead of coming into something that's completely foreign to them that they don't understand," Atkinson said.
The administration is doing whatever it can to "disincentivize" drinking, said Killion; however, certain policies have to be given a chance in order to see if they will make an impact on the problem.
"If certain policies end up not working, I promise you we'll take them back and figure something out, but you have to give things a chance to run their course so you have an idea of whether or not they will or won't work," Killion said.
Christian Rivera, junior National Pan-Hellenic Council president, believes that although DePauw has a drinking problem, the campus has bigger worries. "I'm a firm believer that there are bigger issues than the drinking problem on this campus," Rivera said. "I think really on DePauw's campus there are issues like segregation, diversity and inclusion issues, there's sexual assault, that's something I really pay attention to and I really feel DePauw's campus needs to talk about more."
The disconnect between students and the administration makes it difficult to solve problems on campus such as those mentioned by Rivera as well as the drinking problem. This disconnect poses the question: whose problem is it?
"I feel like it's more of a DePauw culture problem, that doesn't really fall under student or administration," fifth-year Daniela Moeller said.
"I think it's definitely both, I think obviously students are the people who have the most power to change cultural problems," junior Ashley Beeson said.
"I think it weighs a little more on the administration just because I am so in the mindset of education," junior Oscar Morel said.
As a fifth-year student, Moeller has realized that the stress and mental health challenges of being a DePauw student may be the cause of alcohol abuse for certain students on campus. "I think that part of its people are way too overcommitted and stretched really thin," Moeller said.
Although Beeson believes the problem is both a student and administrative problem, she feels students can change the drinking culture on DePauw's campus. "People care more about social pressure when it's coming from their peer than whenever it's coming from an authority," Beeson said.
Morel agrees with Atkinson as he believes the administration should try an educational approach to the problem. "Just being able to tell someone, 'Hey if you're too drunk, drink this, do this,'" Morel said.
One of the new policies that the administration has implemented thus far is a fine of $250 for students under 21 who are found in possession of hard alcohol. Some students have had negative reactions to the new fine policy.
"If you are a lower income student and you're getting punished in that way and so is a student who comes from a very well-off family it's not really a punishment for the student who comes from a very well-off family," Moeller said. "Whereas the student from a low income family, that might be nearly impossible."
Beeson thinks positively about the administration's ability to realize there is a significant problem on campus; however, she feels this is a cultural problem and extensive disciplinary policies may not be the way to combat the issue.
"Making more disciplinary policies at this point, I don't think is going to do much to change that [cultural drinking problem] because none of the other disciplinary policies have changed that. I mean, there's a law in place that says people under 21 can't drink," Beeson said, "there's laws against all these things that people do and that doesn't stop them."
Still, Atkinson stands by a conversation he had with a professor. "She [the professor] said, 'Be safe, have fun, take care of each other, use the Lifeline law,' and I said, 'Yeah and get slapped with a $250 fine,'" said Atkinson.
According to Atkinson, she responded with "'What? A life is worth more than a f---ing $250 fine,' and she's right."