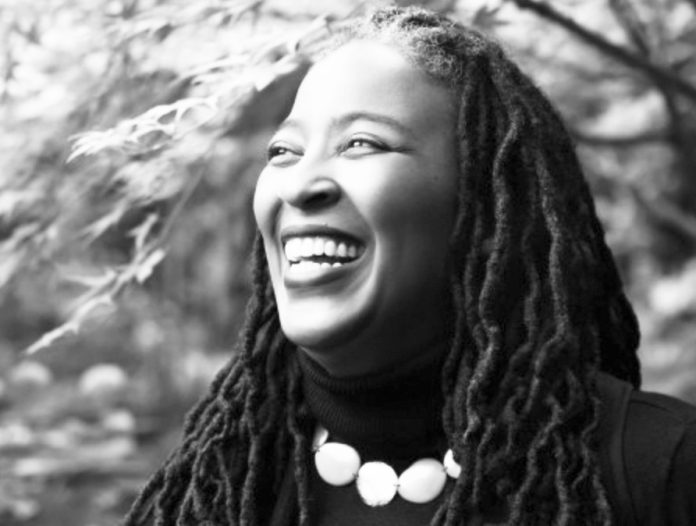 With a scarlet handbag in her right hand and a running timer atop her stage podium, an acclaimed poet opens a book of environmental wonders before a group of curious minds. Through every stanza she reads, the audience enters a cinematic theatre of natural landscapes, akin to hearing the voice of Mother Nature herself.
To showcase her poetic fascination with various aspects of nature, award-winning poet Camille Dungy headlined the last installment of the Kelly Writers Series at the Thompson Recital Hall at the Green Center for Performing Arts on April 5, followed by the "Earth Month Panel: Nature and Race" at the Julian Auditorium on April 6. Showcasing a collection of poems that "celebrate what is there naturally or indigenously, opposed to suburban American life," Dungy captivated the DePauw community with her environmental advocacies inspired by her unique heritage.
Planting the seeds of literary masterpieces
As a recipient of the 2021 Academy of American Poets Fellowship, 2019 Guggenheim Fellowship, and other prestigious awards, Dungy's publications are undoubtedly acclaimed in the literary industry. Yet the magic lies in her down-to-earth personality while reading her acclaimed publication "Trophic Cascade" and her upcoming book "Soil: The Story of a Black Mother's Garden," as she tackled profound themes of family relationships, motherhood, environmental preservation, and her infinitely evolving writing process.
Through breathtaking symbolisms and intricate depictions of nature, Dungy crafted new poetic meanings in the simplicity of her natural surroundings. By finding metaphors in the 7-inch snow lining Colorado's streets, she illustrates how humans must dig their way toward the bottom to find their way back to their loved ones. By creating internet allegories through a personal list of Frequently Asked Questions, she reveals the critical perspectives of society towards her writing process after entering motherhood. By describing the struggle of digging rocks to no appeal, she uncovers the beauty of ideation as she finds new life within splintered stones.
Moreover, while sharing the complexities of her writing process, Dungy tore down the facade of being a perfect poet, transforming into a scientist of words who creates masterpieces through the anatomy of snails, oakwoods, and heart-shaped tree stones. Through deciphering the etymology of the English language, words such as "conspiracy" are no longer suspicious secrets about the Bermuda Triangle, but a new way "to breathe together." She also elaborates on how the frustrating process of structuring a poem can be resolved by surrendering to a YouTube video rabbit hole or clicking the right alignment tab on a Word document.
Dungy concluded her reading by reminding writers, artists, environmentalists, and dreamers alike that the grandeur of poetry is always rooted in the real world, for after all, "nothing about us is figurative."
Cultivating the fruits of poetic movements
"The separation of the arts and sciences is not the reality of making cultural conversations about nature," Dungy highlighted.
Elaborating on the impact of poetry on environmental advocacies, the poet explored a new dimension of her publications through the "Earth Month Panel: Nature and Race," co-hosted by Professors Natalia Vargas Marquez and Karin Wimbley.
The transcendent nature of ecopoetics was discussed as Dungy emphasized how poetry is the reason behind the presence of national parks within the United States. Explaining how early romantic poetry led to the American Wilderness Act, a revolutionary bill that aimed to conserve the most historical wildlands, she revealed how various writers, literary professors, and leaders championed these bills in the legislation. She illustrated how literature can influence history, creating significant ripples toward environmental progress.
Meanwhile, Vargas Marquez explained the relationship between historical art and societal perception of natural landscapes. "To make national parks [an embodiment of] 'nature,' they remove people from the picture," she said, elaborating on the separation of human beings from various depictions of nature such as Ansel Adams' photographs of American landscapes and Diego Valades' "The Grand Chain of Being." Dungy added how human beings must still be valued in the artistic realm as they impact the future of these natural landscapes.
On the other hand, Wimbley explored the politics of representation and society's developed knowledge of the environment, as she believes modern climate conversations are racially reflected. She explained how creative mediums translate into vehicles to understand and articulate existing ideologies about nature. She also showcased her appreciation of DePauw's liberal arts curriculum, which can cultivate trailblazers such as Dungy who will protect the nation's natural treasures.
By engaging in impactful conversations with the DePauw community, Dungy left a lasting mark on students and educators, encouraging them to advocate for their beliefs while fearlessly exploring their artistic, literary, and scientific passions. "When pursuing a vision that feels honest to you, the world can catch up."