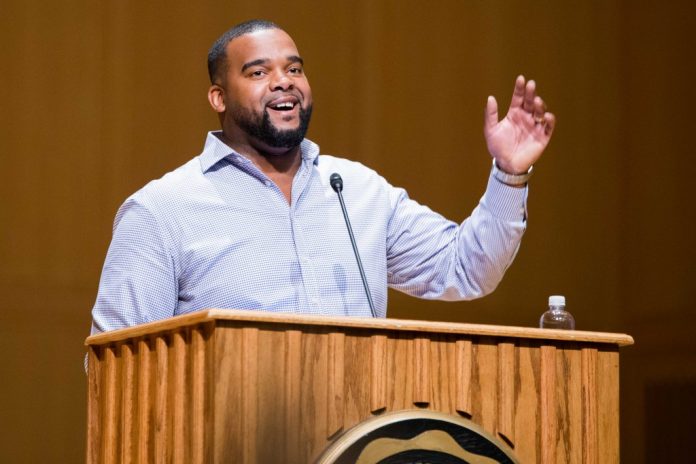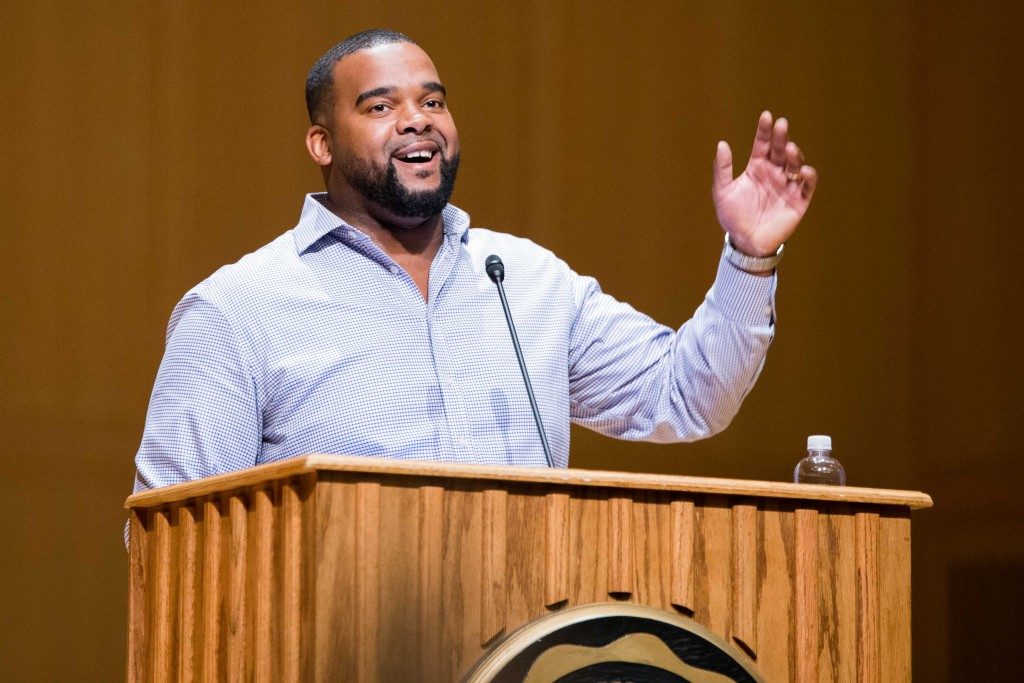 Former WGRE DJ and DePauw student council vice president, Charles Kuykendoll '09, welcomed the Class of 2020 to campus as part of the GOLD Alumni Speaker Series. Kuykendoll is a Senior Recruiter and Vice President of Suit Dreams, a non-profit working toward changing national perception of urban males, sought to inspire the freshman class to actively participate in their college careers.
"DePauw is still a place where anything is truly possible," said Kuykendoll before he launched into the possibilities DePauw allowed him to create for himself since he stepped foot on campus in the summer of 2004.
Kuykendoll cited his Friday night radio show with his friends at WGRE 91.5 as one of the catalysts for him realizing the opportunities, not only within DePauw, but beyond campus. Kuykendoll told a story of when a prisoner from the local jail wrote in to tell how the opportunity to listen to the show gave him a genuine escape from his current situation.
"We were taken aback. It then became very clear, early-on in my DePauw experience, that you have the opportunity to change people's lives."
Kuykendoll then asked the Class of 2020 how they would use their newfound freedom, leverage their time, and how they would translate these experiences into achieving their dreams.
"These next four years are going to be an opportunity for you to experience life like you never have before," said Kuykendoll.
In order to achieve their goals at DePauw and afterwards, Kuykendoll said the three steps for achieving "Uncommon Success" were to: "Dream, design, and deliver."
Kuykendoll explained after spending time on-campus as a first-year, his dreams expanded and grew to ideas he could have never imagined a few months ago, but, made clear these ideas and opportunities are not handed to you.
"What I love about DePauw is that you have to work for those dreams. Those dreams just don't come true."
He spoke about the importance of thinking critically about what he or she wants, design a game plan, and leverage your results. Kuykendoll these opportunities help gain a foothold on a dream were in the clubs he participated in, but the true difference, for him at least, was made inside the classroom.
"You have the best professors who have office hours who enjoy leading, speaking, and even assisting students outside the classroom," Kuykendoll said.
"He encouraged us to challenge ourselves to accomplish our dreams and never forget why we came to DePauw," said Freshman Haley Allaben, "He encouraged us to expand our thoughts beyond what we previously thought we could do."
Kuykendoll then went onto explain the change students would see in themselves four years from now.
"The person that you are today, sitting here, you will not recognize come May 2020," said Kuykendoll, "You're going to look back today on yourselves and appreciate that fact that you dreamed during your four years here. Take advantage of this opportunity that is right before you."
Kuykendoll's speech strongly resonated with freshman and mentors alike.
"I just thought that it was really good experience seeing someone share their experience during their time at DePauw knowing that they were in the same shoes as me and seeing how far they've come and grown," said Junior Tendai Hinds.