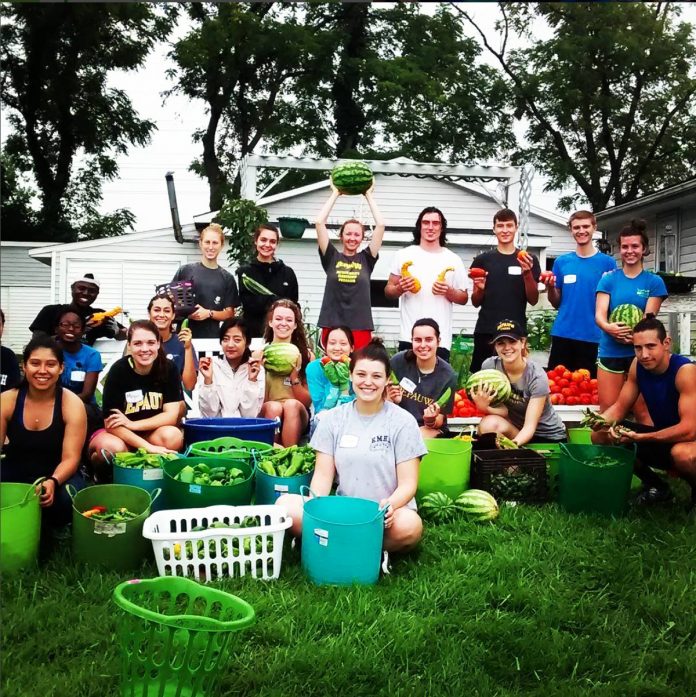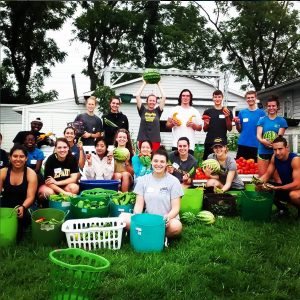 As summer draws to a close and temperatures drop, some DePauw University students are preparing for fall harvest at the Campus Farm. Now entering its fourth season, the farm has come a long way since it's founding in 2013.
The Campus Farm began as a student-organized project through the Student Leadership Program (SLP), led by Anthony Baratta, manager of the office of sustainability. Through both paid and volunteer opportunities, students in SLP tackle environmental issues and work on projects to create lasting change.
SLP member and junior intern at the Campus Farm, Kelsie Roberton, became involved in the campus farm last year as a sophomore. "After briefly visiting the farm on a random weekend, I fell in love with the space and wanted to get involved," said Roberton. "I reached out to Anthony Baratta about volunteering at the farm, and he told me it was only open for SLP members to work at the farm on a weekly basis. Because of that, I decided to join SLP."
Baratta said his motivation for a campus farm began with a desire to help spread awareness about food misconceptions. "We're so disconnected from our food systems," Baratta said. "There is really something empowering about growing your own food. You don't need a PhD to do it. Seeing a student experience it for themselves and seeing how excited they get is really cool for me to see."  
Junior Mary Satterthwaite, another SLP member,  was a group leader when the farm won the Green Slipper Award in 2015. The Green Slipper Award is granted each semester to the best SLP group at DePauw. Now a sustainability intern at the campus farm, Satterthwaite says the farm has a lot to teach people.
Though the farm sells its produce to Bon Appetit after harvest, the farm isn't focused on its revenues. "I think the main goal is to get students involved with learning how to grow organically and sustainably," said Satterthwaite. "To me I think it's more about the learning rather than the profit of selling the food."
Subsidized by Bon Appetit, the campus farm harvests food from the end of spring to late fall and delivers the majority of its produce to the DePauw Dining facilities. The remaining produce is delivered to the Greencastle food pantry.
The campus farm grows a variety of fruits and vegetables, from watermelons and cantaloupes to potatoes and okra. In total, the campus farm produces about 6,000 pounds of produce in a year.
With one DePauw staff member and four interns, the campus farm requires a tremendous amount of work. A significant portion of this work is completed by volunteers. "The Delta Gamma sorority completed a month's worth of work in one afternoon," said Baratta. "We generally have had about 300 students come out to the campus farm each fall, and we would really like to increase that number. Everybody comes away from it saying it's an amazing experience."
Students can volunteer at the Campus Farm on Tuesdays and Wednesdays from 6:00 – 8:00pm.