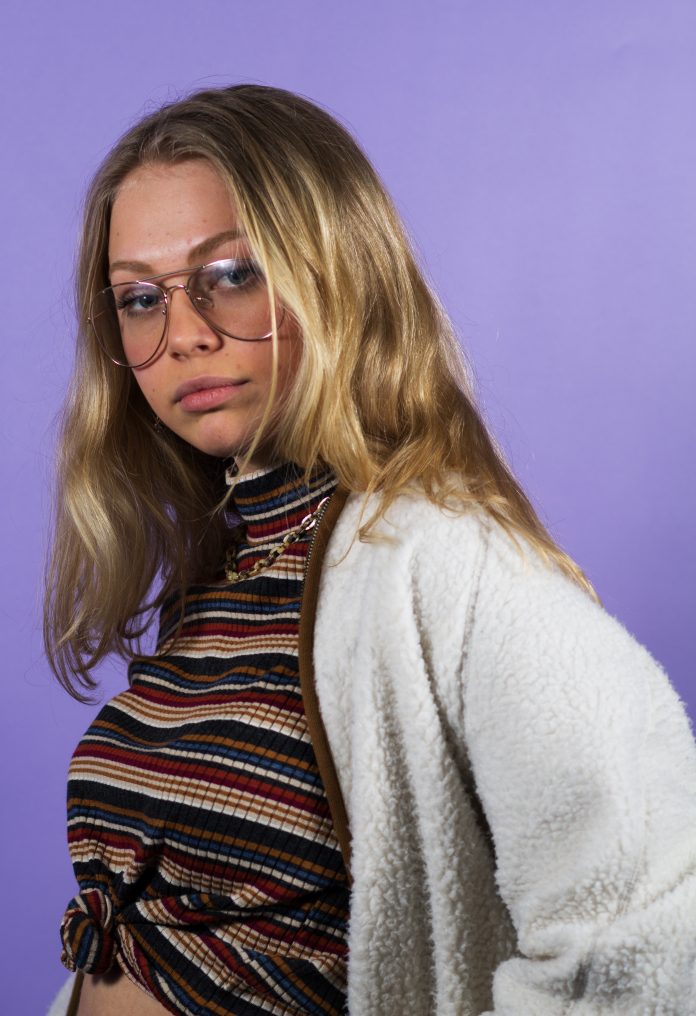 Byron: So I see your outfit, the sweater and the jeans. Tell me about it. How did you pick it out?
Claire: Well, I went to the Goodwill today, and I went to Rescued Treasures, right next to the Goodwill. And I was feeling the 80s vibe cuz' there's all these old people that work there, you know. I just picked them up and thought they went together out of the stuff that was in my closet, so I put it together and I used gold jewellery to add in because it was warmer tones.
Byron: Is that real gold?
Claire: This is just a tortoise chain.
Byron: Did you get that from Goodwill too?
Claire: It's from my mom's old jewelry. All my jewelry is my mom's old jewelry.
Byron: Does your mom influence your fashion choices today?
Claire: I wouldn't say specifically today, but I would say overall, yes.
Byron: Do you think that a lot of your fashion choices or what you wear is influenced by Chicago? Or are there any notable figures that influences your fashion?
Claire: I'd say a lot of my fashion influence over the years come from Youtube. Just watching my favorite Youtubers and then they become my idols and then I want to dress like them. And I try to follow up on European style and stuff like that cuz' they're always ahead of the game. I would definitely say that Chicago has influenced my style. I went to a Catholic high school, but the largest public high school was across the street from my school so I always saw people in there with different outfits and stuff like that. I was usually friends with the artsier kids and I think that definitely influences my style.
Byron: You mentioned European trends. What European trends are in style?
Claire: The thing that I haven't seen in the States yet that I saw a ton when I was in Spain was using bandanas as belts. And that's something I love to do. I do it in the summer with Daisy Dukes, it's cute as f---. That's something that people will point out when I do that and it's cool because the silky bandanas that you can have, people put them on their purses a lot. Using those as belts is really cool and incorporating those into different aspects, using pops of color through accessories. But then also, the pantsuit was really big because of Hillary. She decided that was her one style that she was gonna be wearing when she was a rising politician. That's not a direct influence of European style, but wearing pantsuits is really big there and wearing oversized men's sports coats. And that's something that I love. I think it looks brilliant. It pulls together an outfit and makes it look so sharp. But the thing that I really like about that is that is that you can mix a lot of different fabrics and textures with that. You could wear a grungy band t-shirt but then you could have a blazer over it and put a totally different twist on it.
Byron: You mentioned 80s styles. But I see a lot of 70s and 90s influences. Is there anybody in the 70s or 90s that you take your style from?
Claire: I'd definitely say Madonna. Not today. I'm not wearing something that would be influenced by her. She was really into mesh and grungy things. She wore provocative clothes so I'd say that that style comes out more in the nighttime for me. When I go to parties and stuff like that, and mesh is huge right now on campus, so I'd definitely say that Madonna would influence that aspect for me.
Byron: What are some of your go-to colors to wear?
Claire: Lately I've been liking rusty oranges and yellows. I also love matching black with neon green and pink. I think that there's something about the combination of black and really bold and bright color. I also really like mossy colors like a mossy green or a blue. Stuff like that tends to go with my skin tone.
Byron: You mentioned Goodwill, but where else do you shop?
Claire: I hate to admit it, but truth be told, I love Urban Outfitters. It's a terrible place. I hate it. It's all stolen styles from high end designers. It's all replicated, but they do it well. The thing that I hate about it the most, other than the fact that they steal fashion from designers, is that it's so mass produced that the style becomes meaningless. For me, when I was growing up, seeing the artsy style that was Urban Outfitters was like "wow, this is so cool." And then it became meaningless when I saw everyone wearing the same thing. So I try to turn my style influence more from places like resale shops and antique shops so I can make it my own. A lot of the stuff you find at Urban Outfitters is remakes of 80s stuff. And there's something about scavenging that's a lot more fun to me. But I do love Urban. I love ASOS. I love Zara, but I hate the company. But I also really like Topshop. Uniqlo is another cool one, but they have a lot of basics.