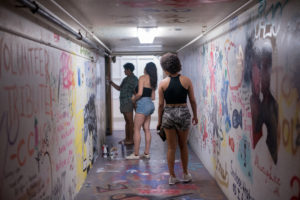 A painting of DePauw's previous President, Brian Casey, motivational quotes and hundreds of signatures are just a few of the images you will find walking between the tunnel that connects first-year residence halls Longden and Bishop Roberts.
Now, the images and phrases express creativity and show students' artistic ability. However, the tunnel had collected a slew of inappropriate words and pictures from previous years that were only recently covered up. The hallway, which once contained sexist language, drawings of genitalia, and lewd, suggestive sexual content, has been transformed to be a space of positive creativity.
On Saturday, the Art Union, a collective of student artists, along with QSOC (Queer Students of Color) organized a community event to repaint the tunnel with positive images. Afterwards, students were invited to gather in Bowman Park to "Reclaim the Corner." Activities included face paint, food, music and chalk art in order to reclaim the stretch of property Brother Jed staged his protest at in previous years.
The idea to cover up the tunnel images first started when senior Student Body President Erika Killion spoke with JC Lopez, director of campus living and community development. She was concerned about the many graphic images, words and phrases drawn on the walls of the tunnel. While it has become a tradition for many individuals to freely cover the wall, several students have abused the space by writing mean comments about others or drawing and writing inappropriate pictures and sayings.
Killion and Lopez discussed how much they should change the tunnel. "There was sort of a back and forth where we were talking about whether facilities should paint over the whole tunnel and start fresh," said Killion.
But after talking with Sophomore Natalia Costard, a member of Art Union, they decided there were a lot of artistic pieces that should be preserved. Rather than to go down to the tunnel and fix it herself, Killion decided that Art Union would be able to cover up the offensive pieces in an artistic fashion.
Costard explained that Art Union chose to get involved because covering the racist, sexist and impolite content was something that needed to be done. "I think it's just something that was necessary, not something that I wanted to do for myself," Costard said. "It wasn't so much of a personal thing, rather than something I thought should be done."
While the event was hosted by Art Union, anyone who wanted to paint was allowed to come. Sophomore Emma Wittkowski, though not a member of Art Union, said she still wanted to get involved with the event because she believes it is a good step forward for DePauw. "By covering up these images, we are shutting down the people that write these aggressive and offensive things on the walls," said Wittkowski, "and showing them that there are always going to be people against them."
Art Union paints over inappropriate messages in Longden hall's tunnel. CHARLES SORRELLS / THE DEPAUW