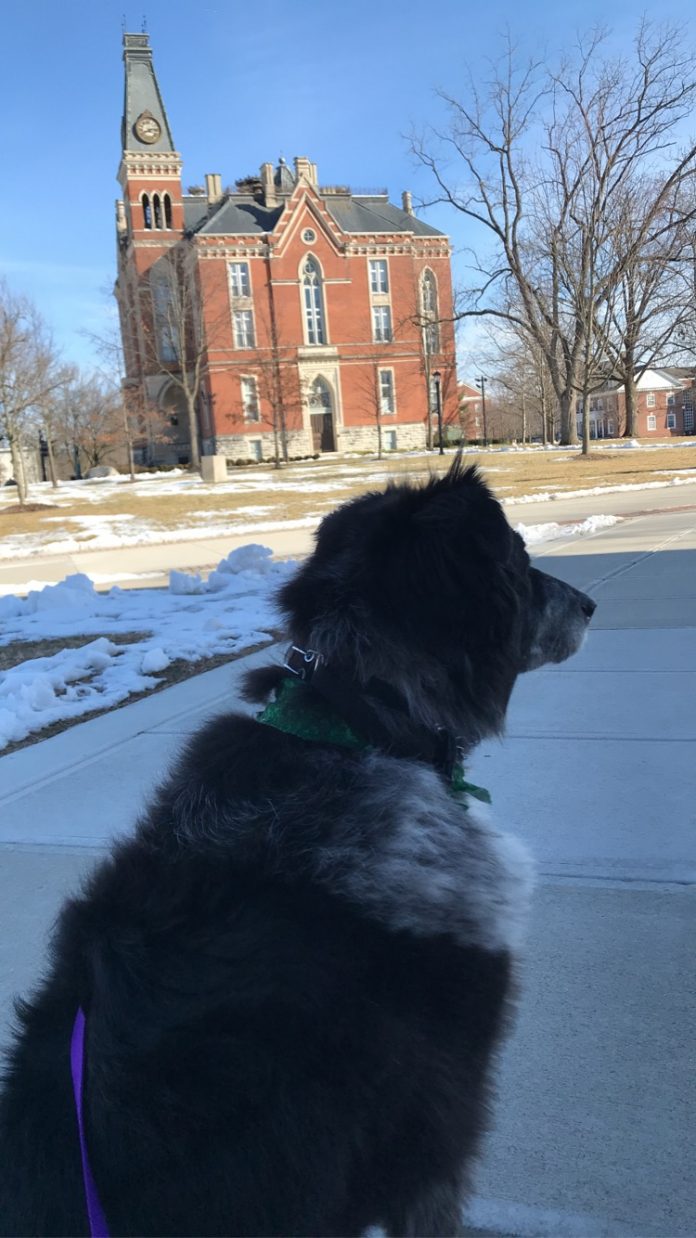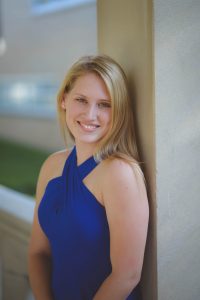 Senior Kathleen Curran returned to campus early to help mentor transfer students as they arrived on campus. Curran, who had initially planned to live in her sorority house her senior year, currently lives in a duplex, as her sorority's capacity was greatly reduced due to COVID-19.
Like many upperclass students, Curran relates her current campus climate in terms of her past DePauw experience.
"Campus doesn't feel that deserted, it's just kind of like how DePauw is on Saturdays," Curran said.
Between schoolwork, mentoring, and taking care of her dog, Mollie, Curran has not had much of a chance to process the changes on campus.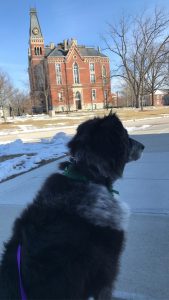 "This might sound weird, but all the seniors from last year … I haven't properly realized that they're not going to be here yet," Curran said. "We didn't really get closure with that."
After almost a year without housing a whole senior class, DePauw's campus will welcome back most of the remaining junior and seniors on February 14. While all students have adjusted to COVID-19 rules in their own households, most upperclass students are unfamiliar with DePauw University COVID-19 Policy and will need to adjust.
Curran remains eager for warmer weather to allow for more options to socialize safely.
"I would love to have people into my house, but I just don't think it's safe and I'm really frustrated at the people who have had gatherings," Curran said. "I'm a senior. I want to walk at graduation."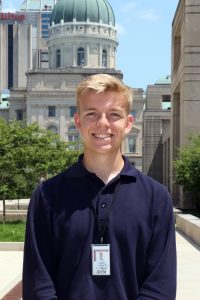 While Curran moved into a duplex, many other upperclass students have already moved into Greek houses. Senior soccer players Collin Davidson and Jack Herbst both arrived on campus on Sunday, January 31, yet have not been able to practice due to recent positive cases amongst the soccer team.
Davidson and Herbst are currently quarantining in their respective houses. Both also claimed that students who moved  in on January 31 never received a rapid test upon arrival due to complications and changes in CDC guidelines.
"I showed up on a Sunday and I wasn't tested until Tuesday," Davidson said.
Soon after the January 31 move-in date, DePauw held emergency meetings with student leaders in athletics and Greek life to address rapid surges in cases.
Davidson thinks the university could do more to facilitate the transition of students to campus.
"We're not in the middle of a big city. We've got a pretty small student population compared to most big schools. And we've got a lot of financial resources, so how are we in this mashup?" Davidson said. "It feels like they're setting us up to fail."
Despite the hectic transition for many students this past week, many seniors still appreciate the opportunity to return to campus for a final semester.
"Overall, I do think that [the university] is doing their best. There's no perfect way to handle it," Herbst said. "There's frustration from every side and in my opinion it's all understandable, but people just have to know that the situation is not something you can just fix like that."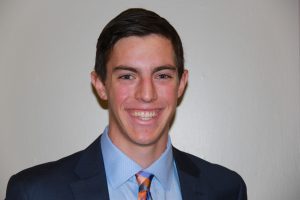 Senior Phil Chung, who will be moving back to campus on Sunday, February 14, also looks forward to being back with his friends.
"I'm definitely excited to hang out and live in a community," Chung said. "But if I'm in that community, and I'm unable to access it, it's like … dang."