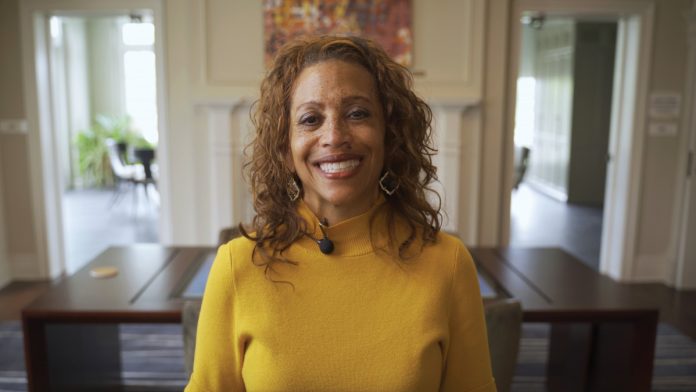 In an office overlooking East College sits a woman who never thought she would be here. A psychology major from the University of California, Berkeley as the president of DePauw University. A self-proclaimed city girl living in small town Greencastle, Indiana. She sure didn't expect the position, but Dr. Lori S. White, the 21st president of DePauw, loves every day of it.
"When I was a first-year student, I didn't check the box that said 'college president.' Although, I have spent 40 years working in higher education. I got my first job out of undergrad working at UC Irvine, which is where my dad was a college professor," White said.
White said she ended up working at UC Irvine because she did not get involved on campus or make contacts with professors. Coupled with not knowing how to access resources, White felt lost when she graduated.
"My dad knew I majored in psychology and that I loved connecting with people. He thought I would enjoy working on a college campus, and he was right. I started working my way up the administrative ladder and never left," White said.
Of the past 40 years of working in higher education, White has spent her time at University of California, Irvine, San Diego State University, University of Southern California, Stanford, and Georgetown. Before going to Washington University in St. Louis, she served as the vice president for student affairs and clinical professor at Southern Methodist University. At Washington University in St. Louis, White took on the position of vice chancellor of student affairs and professor. Never did White think she would end up as a president of a small town college in Indiana.
To her surprise, White was nominated for the DePauw opportunity by another college president. She came to visit and was instantly impressed. The student giving White the tour had no idea of White's potential of being college president. As almost a secret shopper, White took in the campus and the students.
A senior Posse scholar and first-generation student from New York, the tour guide stuck with White.
"By the time he graduated from DePauw, he had studied abroad in Japan. He was writing a senior thesis, majored in computer science and Japanese, and wrote a great senior thesis on how the Japanese could use robots to take care of the elderly. He had already started his own business, and he made a confident way about him," White said.
White thought to herself that the tour guide was not always so self-assured. White said that something about the experience at DePauw instilled that sense of confidence for him. She knew then that DePauw was a special place. Not until she got on campus would she realize this was one among many special experiences she would have with students.
As a former vice president of student affairs, White's favorite part about being a president is spending time with students. She vividly remembers cheering in one voice bringing home the bell. White also remembers shaking hands with the first graduating class when she was president.
"One young man leaned in and said, 'I'm going to make you proud.' Those for me are all my magic moments," White said.
As president, White hopes to inspire new generations of students to be a role model for what can be done.
"When I understood that I would be the first woman and first person of color to hold the position, I understood that I could be a role model for others about what's possible," White said.
A day in the life of DePauw's president is highly variable, but her morning routine is fairly constant. She wakes up at four in the morning, just early enough for her to collect and center herself for the day. White makes a nice breakfast, maybe avocado toast or a smoothie, before heading out to the office.
"I always spend some time reading my email and going through my schedule for the day. I usually get here around seven, the official work day starts at eight, that gives me an hour before everyone else comes to go through my mailbox and figure out what I need to prepare for today," White said.
Her days are packed with meetings, every one of utmost importance. Her mornings may be spent with the university leadership team. She eats a quick salad lunch during her meeting with the diversity, equity, and inclusion committee board. After discussing budgeting, explaining grant allocation, and meeting with her cabinet, White takes a walk around campus and into the new library. When she talks about spending time on campus and around students, a smile lights up across her face.
White may spend her weekends traveling to meet for a panel discussion, having dinner with a new board member, or watching sports. A big fan of college basketball, White listened to the Purdue and Indiana game on her way to Indianapolis for a meeting. Other weekends, she spends at sports events in Greencastle or travels around outside work.
"Sometimes, my husband and I just get on the road and drive to some place on the weekend. I learned that what is great about here is nothing is more than three hours away: Chicago, Louisville, Columbus, and St. Louis."
White is proud of being a president of a university with such a rich history and supports DePauw's motto of creating leaders the world needs.
"I always tell prospective students to look at our Wikipedia page. When you see all the people that have gone to DePauw and on to successful careers—whether that's in business, journalism, flying a rocket ship, or being a scientist—there's something about this place that launches alumni on these incredible careers," White said.
For the future, White has several ambitions. She hopes that by the time she is no longer president at DePauw, which she stresses will not be anytime soon, the university will be within the top 25 liberal arts colleges in the country.
"I want DePauw to be seen as a mover, shaker, and innovator in higher education with particular respect to liberal arts colleges. I always want to make sure that every student we admit to DePauw and says 'yes' leaves DePauw feeling like they had a great experience," White said.
Behind the meetings, years of educational experience, and an ambitious to do list, White simply loves working with students. With hopes of inspiring students to become the next generation of leaders, White's job is just beginning.