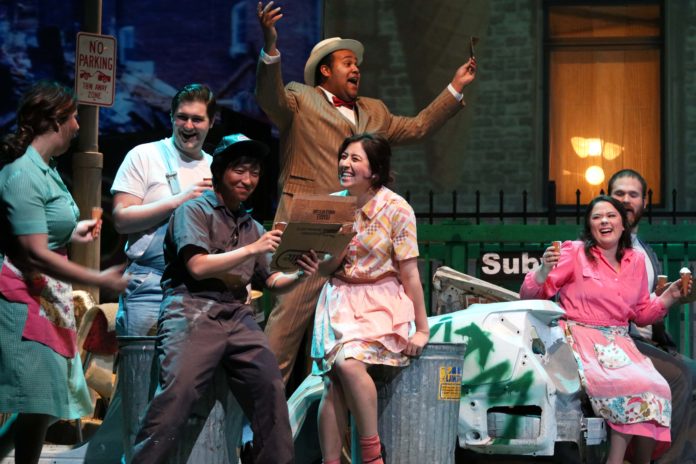 This weekend, the DePauw Opera transported audiences to 1970's New York in a rendition of "Street Scene," Kurt Weill's 1946 opera. Weill's opera is based on Elmer Rice's Pulitzer Prize-winning play from 1929.
    The show takes place over two days in 1970s New York, where a group of foreign immigrants share an apartment building on Manhattan's East Side and deal with being marginalized by the rest of the city. Filled with romance, murder, comedy, and Broadway-caliber music, "Street Scene" creates an emotionally powerful story.
    "We like to talk a little bit about how, before there was Leonard Bernstein's 'West Side Story,' there was Kurt Weill's 'Street Scene,'" said the production's musical conductor, Orchenith Smith.
    "The music is always beautiful and always representative of the action on the stage," said Smith. "Anyone would enjoy just hearing the music."
    The opera is directed by Joachim Schamberger, visiting professor and guest stage director. Schamberger, a German immigrant and trained vocalist himself, moved to New York City to begin directing.  
    "(Living in New York) is a fascinating thing," said Schamberger. "Your heartbeat is everywhere… and you're in the midst of literally millions of people, but you can be very, very lonely."
    In the mid-1930s, Weill emigrated from Nazi Germany to New York City, where he began to study American stage and popular music. Weill ultimately wanted to create an American opera that would be successful on both a commercial and artistic level. The product: "Street Scene."
    Preparation for the production served to be a lengthy process, dating all the way back to last spring, when Schamberger and Smith selected Weill's "Street Scene" as this year's opera. Auditions to cast the story's characters were held in September, with rehearsals starting during Winter Term after a semester-long trial of students memorizing their individual roles.
    Due to other projects in the music school, the student orchestra's learning curve was a little behind that of the cast, having only begun to rehearse the music live last week.
    "So gradually (the orchestra) learns how the opera feels in their head," explained Smith. "They have to learn to execute together and understand the music as though they knew it as well as the conductor would know it."
    Though rigorous, the rehearsal schedule has shaken most of the nerves out of the cast. "That is the benefit of having a really long rehearsal process," said first-year Anna Martin. "By the time that you do perform, it's in your bones… Everyone knows exactly what they need to be doing."
    Apart from its effects and music, Street Scene's message on immigration still resonates with American audiences in 2017.
    Martin's character, Greta Fiorentino, is no exception in communicating this message.
"She stands up for immigrants and foreigners, which is… important nowadays", said Martin. "It's funny that the opera was written about was in the 30s."
    Schamberger saw the story in a very similar way. "It's pretty interesting, if not to say depressing, how relevant it is," said Schamberger. "(Street Scene) is soon a hundred years old, but the political aspect of it is still very relevant right now with… the immigration issue."