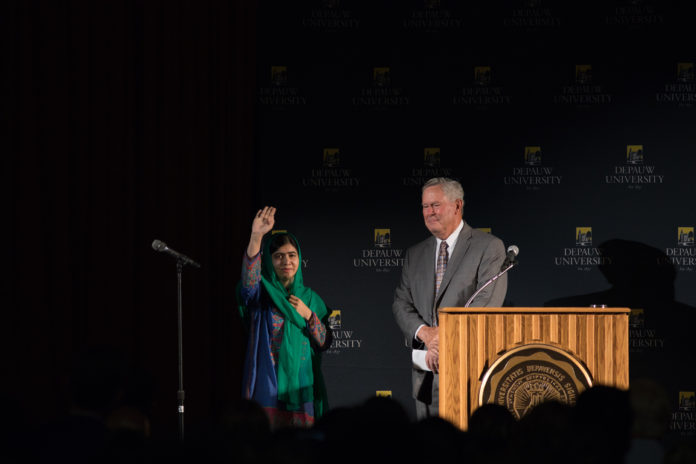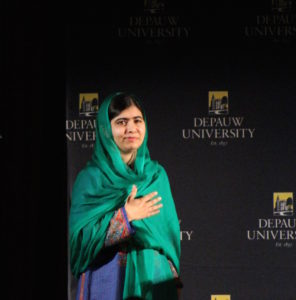 From the paradise of Pakistan's Swat Valley to the bustling streets of Birmingham England, Malala Yousafzai's journey made a highly anticipated stop in Greencastle on Monday night. The women's education advocate visited DePauw University to share her lifelong commitment to providing education for boys and girls around the world.
"As long as I'm alive and have energy I will try to help people," said Yousafzai, at the 108th Ubben Lecture.
Yousafzai burst into the public spotlight after being shot in the head by the Taliban in October 2012 for fighting for the right of every child to go to school. Since that fateful day, Yousafzai has become an international symbol of inspiration, writing a book about her life in 2013 titled "I Am Malala" and in 2014 becoming the world's youngest Nobel Peace Prize recipient at 17.
Her visit to DePauw this Labor Day was one of the most anticipated Ubben Lectures to date, according to Ken Owen, special adviser to the president and coordinator of the Ubben Lecture series.
The Ubben Lecture series was started by Timothy and Sharon Ubben '58 as a way to "bring the world to DePauw," according to University President Mark McCoy in his introductory address to Yousafzai's talk. Past Ubben Lectures have been David Cameron, Spike Lee, Yeomni Park, Margaret Thatcher and the late Pakistani Prime Minister, Benazir Bhutto, who Yousafzai cites as being one of her biggest role models.
The Neal Fieldhouse in the Lilly Center was packed close to capacity at 5,300 people. The attendance line started forming around 4 p.m. outside of the Lilly Center before the official 6:00 p.m. door opening. By 5:30 p.m. the line had wrapped around Julian Center and down Indiana Street.
"I think [the attendance] really speaks to the fact that more people know her than they know these big political leaders, and probably that's because of her very simple message that reaches people," said Jeffrey Kenney, professor of religious studies, who mediated the conversation.
Many students who attended were impacted by Yousafzai's words. "Having a teacher as a mom has made me really passionate about education from a young age, and I knew about Malala and respected her and her work for a long time," said junior Becca Sellers. "So being able to see her in person really emphasized those feelings and made me inspired to help people and make a change."
Responding to the common western belief that Islam oppresses women, Yousafzai said, her faith has rather inspired her to fight for girl's education. "In terms of my Islam, what I have studied, it gives me equal rights," Yousafzai said. "In some countries, it is not the religion it is the patriarchy."
Yousafzai also responded to accusations that she is a western political figure and that she is disliked in her own country. "The real people [of Pakistan] are there, they stand with me and they support me," Yousafzai said.
Students also felt as though her responses to questions were well thought out and valid. "I think she clarified it pretty well that her intentions are to work for women's rights all over the world," said junior Taimoor Malik. "I feel like this turnout was much needed for a talk like this, because the more you know the more you get those misconceptions out of your head."
She spoke about her life's work toward the goal of seeing all women and children currently suffering to be educated. "My real achievement would be to see every child get an education-that is my mission," Yousafzai said. "Learning is important and will help build you and your community."
Yousafzai advocated for her philanthropy, The Malala Fund, which works towards bringing education and resources to children in impoverished areas around the world. The Malala Fund has worked in Jordan, Iraq, Lebanon, Nigeria among other countries. She recently visited Mexico and hopes to start new efforts there.
"If I did not go to school ... I knew I would be like other women ... who don't get an opportunity to be women themselves," Yousafzai said.
Yousafzai stressed the power individuals can have throughout the world and the importance of raising your voice in the face of injustice. Junior Gabi Hagerdorn felt empowered by Yousafzai's visit and felt encouraged to make a change at a personal level, stating "not all of us are doing that right now and we need to be and we should be."
2017 Malala Ubben Lecture