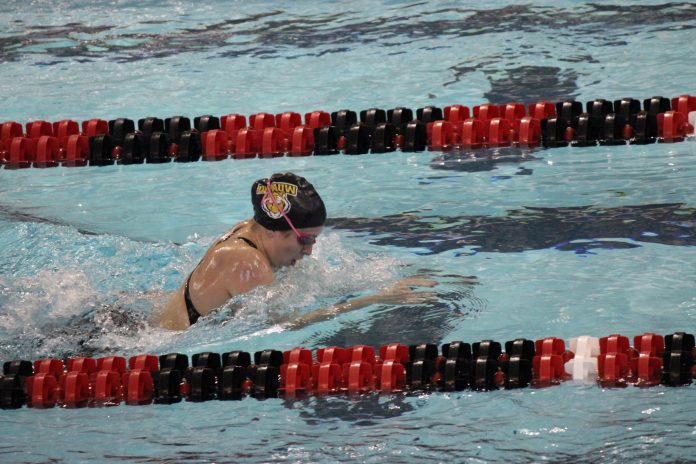 After four days of competition at the North Coast Athletic Conference (NCAC) swimming and diving championships, the DePauw University women came away with a fourth place finish, totaling 1,075.5 points as a team.
They fell to first place Kenyon College (1,953.0), second place Denison University (1,860.0) and third place The College of Wooster (1,225.5). Head Coach Shea Davisson said the team had a strong showing at the meet. The team had 29 personal best times overall in individual events and there were 24 season-best times.
Davisson said the team did well for being a young team. "We've got 13 freshman out of 22 athletes on the team and with such a small number of upperclassmen, I think we performed about the best we could," Davisson said. "Every single person who was on the scoring roster made it back to the finals in every single event, which is pretty hard to do."
Three relays earned all-conference honors and junior Mary Woods had an all-conference swim in the 100 individual medley, finishing with a time of 59.13. Woods said the team had a high morale which motivated them throughout their races. "We were really excited throughout all seven sessions of the meet and that definitely showed in our swimming," Woods said.
The sophomore duo of Alison Lund and Olivia Neff combined for 37 points in the 100 yard freestyle. Neff finished 11th with a time of 53.06 and Lund came in right after with a time of 53.98. Neff also came back to finish ninth in the 200 yard freestyle with a time of 1:57.83.
The Tigers stepped up in various stroke events. Aside from her standout swim in the 100 IM, Woods also placed seventh in the 100 yard breaststroke (1:06.45) and tenth in the 100 yard butterfly (57.44).
First-years Alison Tallen and Maria Herrera stood out in their events. Tallen finished sixth in the 200 yard butterfly with a time of 2:10.29 and seventh in the 100 yard backstroke with a time of 58.84. Herrera touched 11th in the 200 yard backstroke in 2:09.04. Senior Jeanne Cullen swam the 400 yard IM in 4:45.72 to earn her a ninth place finish.
First-years Riley Steffy and Rachel Graves had strong swims in the both the 500 yard freestyle and the mile. Graves finished 13th in the 500 yard freestyle (5:15.19) and tenth in the mile (18:10.51) and Steffy finished 14th in the 500 freestyle (5:1698) and 12th in the mile (18:11.84).
The team is waiting to see who qualifies for the NCAA championships that will take place from Mar. 21 through Mar. 24 in Indianapolis, IN.