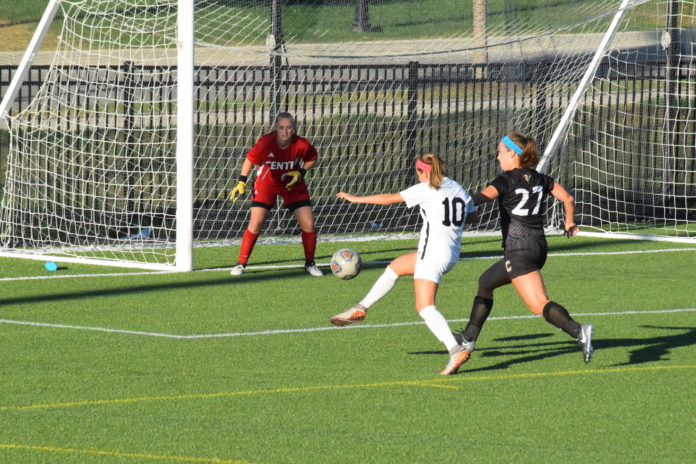 Offensive struggles defined the women's soccer team last year, averaging just one goal per game. Coming into this year, however, new leadership from Head Coach Kristina Corona and Assistant Coach Kayla Grimsley looks to turn that around, heading into the 2018 campaign with a revamped squad and upperclassmen experience.
As a team, the Tigers are lead by returning All-NCAC seniors Gail Enright and (1st team - 2016) and Maddie Baker (2nd team - 2017). Although they will be a huge part of the group's success moving forward, the ladies are holding each other accountable at practice and during games.
According to returning junior Shaili Kumar, the upperclassmen have high standards that they expect the underclassmen to live up to. "[We] expect hard work, commitment, and the constant drive to learn and grow as individuals, both on and off the field."
Despite the changes that have with this year's new coaching staff, "the hard work and dedication from my teammates is the best I've seen since I've been here at DePauw," Kumar said.
Much of the new work ethic seen from the women is thanks to Corona and Grimsley. Both have previous soccer experience, with Corona a successful DI coach for the University of Dallas, and Grimsley a two-time All American for the University of South Carolina. "We are very lucky to have inherited such a talented group of women," Corona said.
She commended many of the returning players on their selflessness one the ball, and their IQ of the game, but also praised the underclassmen. "As a collective group, our underclassmen are hard working, eager to learn, and a great group of young women," Corona said.
With the Tigers welcoming 10 freshmen, it's going to be excited to see what the team can achieve, not only this season, but for years to come. The new Tigers, however, are not being given any leeway, according to Kumar. "I hold the freshmen and underclassmen to the same standards as the upperclassmen," Kumar said. But overall she said that everyone is ecstatic to work together this season, and if they keep the energy as high as it's been so far, fans can expect some big wins from the ladies this year.
Even though the entire team is focused on the task at hand, and all have winning mindsets, Kumar highlighted how close-knit the women's soccer team is. "These are truly friendships that will last a lifetime and I'm forever grateful for every single one of my teammates," Kumar said.
As they all continue to not only play to win, but play for each other, the women's soccer team expects to accomplish much more than in recent years.
Following a thrilling 3-2 overtime win against Franklin this past Tuesday, the ladies moved to 1-3 on the season and are gaining momentum. Make sure to come and support your Tigers during their next home game against Rose-Hulman Institute of Technology, Wednesday, Sept. 19.