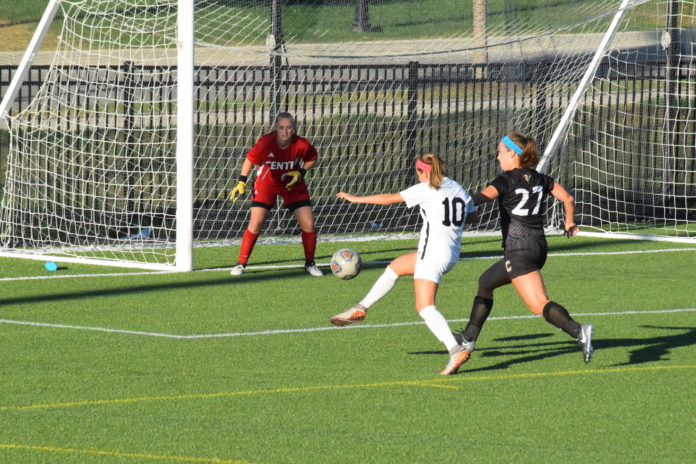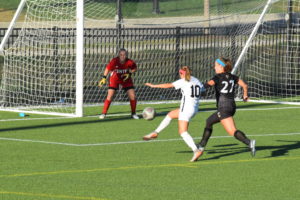 DePauw sealed off a 2-0 shutout victory on senior night over Hiram College, giving the Tigers their first NCAC win at Reavis Stadium on Saturday.
The Tigers jumped out early as junior forward Bailey Ehrens, after receiving a short crossing pass from first-year forward Alex Wendt, scored her second goal of the year to put DePauw ahead 1-0 just after11:45.
Soon after a save by Tigers' first-year goalie Mia Manney, the ball was kicked deep to senior forward Bridget Brendza. Brendza kicked a through ball to sophomore forward Shaili Kumar, who then weaved through opposing defenders just before kicking a shot from outside the goalie box. The shot passed by the Terriers' goalie for Kumar's first goal of the season, putting the Tigers up 2-0 eight minutes before half.
Following halftime, the Tigers' defense came out strong to hold Hiram off. The Terriers only managed two shots on goal during the half. Defense and a perfect save percentage by Manney kept the ball out of DePauw's net, as the Tigers rolled onto a record of 2-7 overall and 1-1 in conference.
DePauw outshot Hiram 14 (six on goal) to the Terriers' four (all on goal). The difference in corner kicks played a significant role in the amount of time the ball was at each end of the field, with the Tigers capturing 14 corners and the Terriers only two.
"We connected passes and built out of the back with patience, skill, and trust in the approach, but also had the ability to get in behind when the counterattack was on," said interim Head Coach Doug Starnes. "Centre is a classy, high achieving program, and the challenge now is to commit to the same things we did well in the last match against a perennial NCAA tournament caliber team."