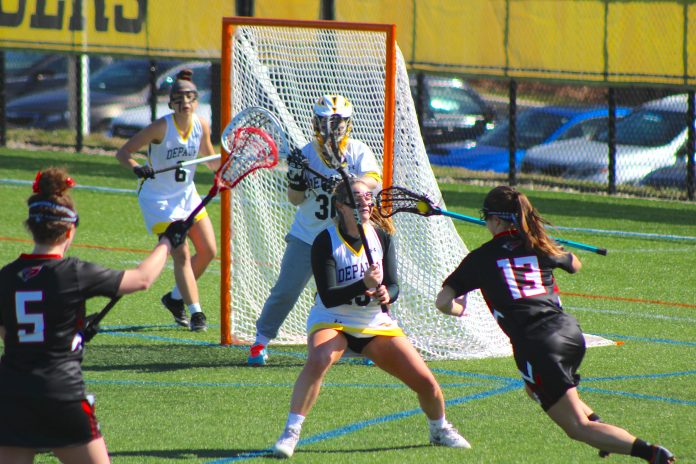 In their fifth game of the season, the DePauw University women's lacrosse team fell to University of Mount Union in a 3-23 loss on their home turf. This Tiger's record drops to 0-5 for the season thus far.
Mount Union ran the show within the first two minutes of the game, scoring three consecutive goals led by their own Danielle Rohrman and Marjie McNamara.
A key player for the Tigers this game was first-year Maeve Sheehan who disrupted the Mount Union Purple Raiders, causing a turnover for Mount Union after the first five minutes, giving the Tigers back possession. Sheehan contributed three ground balls during the game.
The Tigers were led by the Raiders 18-0 at the end of the first half, seeing little possession throughout the thirty-minute period.
In the second half, the Purple Raiders switched goalies while the Tigers kept first-year Kathryn Hopkins in at goal. The Tigers were able to gain possession of the game again with a quick ground ball pickup and unsuccessful shot by first-year Tori Salanty in the first three minutes of the half.
The Purple Raiders improved their score to 23-0 for the game before the Tigers could score their first goal of the game. The first goal for the Tigers was scored by first-year Sophie Hensley, followed by a second goal by sophomore Sarah Ramsey, and their third goal scored again by Hensley in the last seven minutes.
Mount Union led DePauw in shots, 36-8, as well as winning 22 of the 28 draws of the game.
The Tigers open conference play against Allegheny College on March 17 at 11:30 a.m.