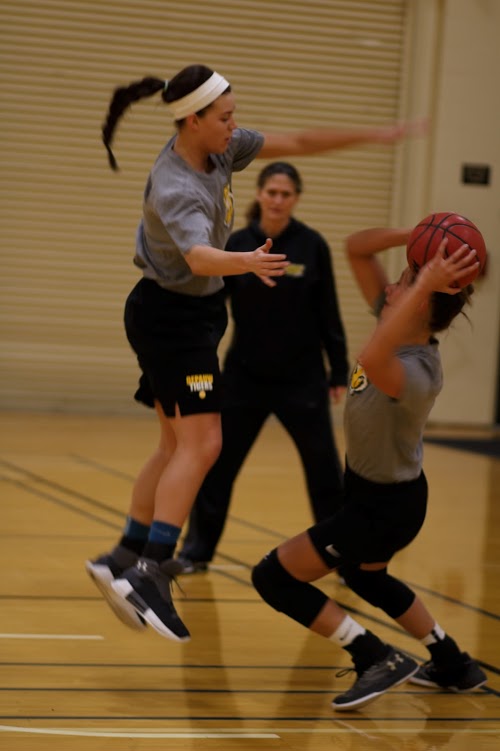 Despite half of the women's basketball team being first-years, the team currently has a 17-game win streak.
Seven of the current 14 players are first-years, but head women's basketball coach Kris Huffman said the youth of the team has made it a unique season. "Credit to them, they've worked their tails off and they've gotten themselves ready to play," Huffman said.
Heading into the season, Huffman said she wanted the players to focus on their defense, free throws, rebounds and taking care of the basketball. She said these are the key focuses of their program year in and year out.
With only three games to go in the season, the team maintains a 78.4 free throw percentage. The Tigers have kept opponents to an average of 50 points per game while averaging 67.8 points on offense. Another key factor for the women is keeping turnovers to a mere 12.6 per game.
Senior Melinda Franke says the team's success has come from focusing on these components in practice. She said the team wants to win the conference championship as well as the national championship and the improvement over the season in defense has given them the opportunity to achieve these goals.
First-year Claire Keefe said the upperclassmen have provided great leadership on and off of the court. Keefe says the seniors were welcoming to the first-years which has helped the team develop trust. "In the beginning of the season, none of us knew each other. But now we have so much trust we can pass the ball without even thinking twice about it, which is huge," Keefe said.
Both Franke and Keefe said the team's chemistry has helped them on the court. "We did open gyms all of the time so the chemistry was already there before the season started," Keefe said. "That's helped us on the court because we know where each other are, we know each other's strengths."
Keefe and Franke both expressed the difficulty and importance of winning the last three games of the season. Keefe said if they win all three games, they will be able to host the first round North Coast Athletic Conference (NCAC) tournament game. "We can have our fans and families here so that would be amazing," Keefe said.
The Tigers are currently 21-1 on the season and look to remain undefeated in conference play. They are back in action on Feb. 7 when they host rival Denison University.