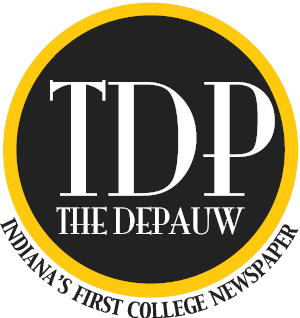 Stickers and business cards for white nationalist groups were found around public streets that run through campus.
Public Safety sent a campus-wide email a little after 6:30 p.m. on Monday, after the stickers were removed for not complying with the University's posting policy. The stickers were discovered by a community member who reported what they found to Public Safety. They were found on Hannah, Indiana, Seminary and Anderson Streets.
Director of Public Safety, Angella Nally, told The DePauw via email that Public Safety had found six stickers and two business cards with the group's logo and name. Four of the stickers were found on the backs of signs, one was found on a utility pole, and one on a utility box next to the street. The business cards were found in the grass next to an interior sidewalk. All items were located on public property, not DePauw University owned grounds.
Nally would not release the name of the organization, in an action similar to other universities who have found white nationalists advertisements around their campuses, as a way to prevent publicizing the group's agenda. The logo found on the items posted on DePauw's campus was a set of triangles.
On the same day, the Journal Courier reported that white-nationalist alt-right group, Identity Evropa, plastered posters and fliers around Purdue University on Sunday. Identity Evropa formed in 2016 and has begun a public campaign aimed at universities called "Project Siege" where the group hopes for the "beginning of a long-term cultural war of attrition against academia's Cultural Marxist narrative," according to their website. Identity Evropa's logo is a set of triangles.
"There is no place in the world for white nationalists or anti semites," President Mark McCoy said.