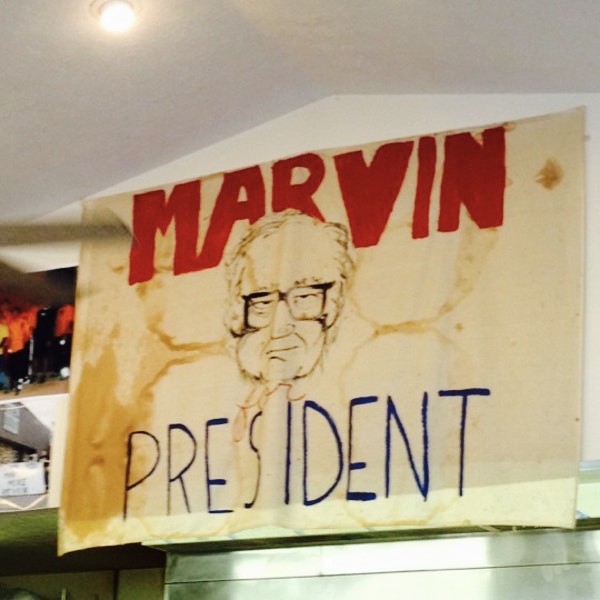 Do you like Chipotle or Qdoba? Is queso your favorite food ever? Well you should start getting excited for this new restaurant! If you're in the mood for a burrito bowl but don't want to drive 40 minutes to Plainfield, check out the new Burrito Factory, Taco Wapo, located where Anthony's Pizzeria used to be on 306 E Washington St!
A DePauw tradition, and the place most upperclassmen on campus would suggest you try:

Marvin's

. This Greencastle institution has served DePauw students their Garlic Cheese Burgers or GCBs for generations. Located on the corner near Asbury hall, this DePauw classic also has hidden gems such as the mac bites and the Garlic Chicken Cheeseburger or GCCB. Make sure to stop by with your mentor group or your friends one Friday night!

Go to

Scoops

and try one of their exciting flavors like Turkish Coffee or Lemon Oreo! When you walk in, you'll be hit by the smell of cookies and sweetness, and you'll be unable to resist buying at least one scoop! Their menu also goes beyond just ice cream cones to offer you flavored soda and sundaes! You'll love biting into one of their delicious waffle cones too.

Another popular Greencastle tradition is

Dairy Castle

and its plethora of menu options. If you enjoy a sauce or a flavor, you can easily ask your server there to get it for you! With their versatile menu you can also order cheese fries with your strawberry milkshake or you can experiment and come up with your own combo.

If you're in the mood for a restaurant with more options from south of the border, then try

Don Julio's

located on the city square. They have a large selection raging from vegetarian chimichangas to chicken and beef fajitas! Plus if you're over 21, you can get a margarita tower to share with your friends!

If you like semi-open air seating and a bar atmosphere, head over to

Tap House

where you can enjoy their creative beer infused menu. Their creative and expansive menu presents students with a lot of choices and flavors. And stop by for trivia on Tuesday nights at 7:30 p.m. for a fun challenge!

A little homesick? Eat a meal at

Almost Home!

The laid back and family-oriented atmosphere will make you feel a bit less homesick. Their broccoli and cheese soup will help cure any bad mood. And let's not forget about their large array of deserts that they make fresh everyday. Surely their sweets will become your next obsession!

If you and your friends want to grab a quick bite to-go, head over to

Myers' Market

on

302 E Washington St.

where you can order a custom sandwich and add whichever sides you're in the mood for. Or you can dine-in and enjoy your sandwich inside or out on their patio.

Bridges

, located in downtown square––right next to Music on the Square, is a great place to celebrate any special occasion. Eat a pizza made in their Italian oven and enjoy the sunset while dining on their rooftop. And if you're over 21, make sure to try a glass of their wine on tap!

If you really enjoy craft beer and good food,

Wasser

is the place for you. With Wasser's creative menu and wide variety of drinks, this rustic restaurant is a people pleaser, and a great spot to bring your parents when they're in town.

Have you been craving Chinese food since you arrived? Well you're in luck because

No. 1 Chinese Food

has a great selection on all your favorites for a great price! Their crab rangoon is delicious and the perfect late-night study snack.

Check out a free movie at

Ashley Square Cinema

(make sure you bring your student ID) (2 Ashley Square)

Go over and pick up some local produce for your fridge from the

Farmers Market

on Saturday mornings in the downtown square. It's a great chance to connect with the Greencastle community and it goes on until October!

3G Bowl

is a great place to go with a group of friends to play free bowling, also make sure you have your student ID (

1250 S Jackson St)

If you're in the mood for some small-town shopping, go check out one of the local businesses like

Conspire, Completely Nuts and Candy, Crickets

or any one of the many choices Greencastle has to offer.

Is thrifting your thing? Or do you have some things that you no longer use and want to donate? Well check out the Greencastle

Goodwill

,

Rescued Treasures

or

Beyond Homeless

.

Are you an adrenaline junkie? Then go to

Field of Dreams Paintball

or

the Lincoln Park Speedway

to get your fix. Go head-to-head with your friends or watch others race.