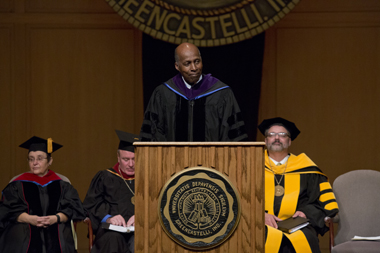 Civil rights activist and DePauw University alumnus, Vernon Jordan Jr. '57, will speak at the DePauw 2017-2018 commencement ceremony.
Jordan is a senior managing director of Lazard Frères & Co. LLC (NYSE: LAZ), and is senior counsel with the Washington, D.C.-based law firm of Akin Gump Strauss Hauer & Feld LLP. He is a long time advisor to former President Bill Clinton, former president of the National Urban League, and former executive director of the United Negro College Fund. On May 29, 1980 Jordan was shot in an assassination attempt. This would be the first story ever covered by CNN.
Recently, Jordan received the Harvard Law School Center on the Legal Professions Award for Global Leadership. Jordan also appeared on author Malcolm Gladwell's podcast, Revisionist History, where he talked about court cases he worked on in the Jim Crow south during the early 1960s.
"I cannot imagine a better commencement speaker than Vernon Jordan," said DePauw President Mark McCoy. "I am thrilled that he agreed to do this."
Jordan spoke at President McCoy's inauguration as DePauw's 20th president in 2016. Jordan had formally retired from public speaking several years ago but told President McCoy he would make an exception for DePauw, both for President McCoy's inauguration and again for the commencement for the class of 2018.
President McCoy credits DePauw Student Government President, senior Erika Killion, and Vice President, senior Armaan Patel. At the end of last semester, Killion and Patel asked DePauw seniors on social media who they wanted to speak at commencement, and student government ranked the responses and showed them to President McCoy, with Jordan at the top of the list.
"He has a personal connection to DePauw and just an incredibly moving life story," Killion said. "This might be one of the last chances we'd have to hear him speak at DePauw."
This will be Jordan's third commencement speech at DePauw. Past speakers include talk show host Tavis Smiley, former Brown University President, Ruth J. Simmons, and actor Kal Penn.
"He'll give you a speech you will not forget," President McCoy said of Jordan.
The class of 2018's commencement will take place on May 20.