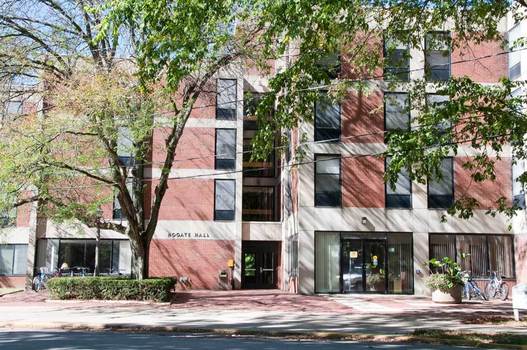 Hogate and College Street are going down. The two infamous first year residence halls on DePauw's campus are set to be demolished sometime in the near future, according to Associate Vice President of Facilities Management Warren Whitesell.
"We haven't solidified everything exactly from a timing standpoint, but there is at the very least a beginning of the plan," Whitesell said.
Whitesell does not anticipate the resident halls to be demolished before the start of the next school year, but said that the Board of Trustees have made it a priority.
Hogate and College Street are "spaces that need more work than they're worth" Whitesell said, specifically referring to Hogate because many of the building's problems are hidden behind walls that would need to be demolished to reach the issues.
Hogate turns 50 years old this year, being constructed in 1968 as a suite-style dormitory. College Street, on the other hand, was once Lambda Chi Alpha fraternity, and the building was bought by the University after the chapter disbanded. Both residence halls have received complaints over the years from students for having environmental, mechanical and structural problems.
In 2014 specifically, mold was found in Hogate in the carpets and air conditioning after excessive flooding. Students in the building reported respiratory problems and headaches along with developing the "Hogate cough," according to reports from The DePauw.
There are no designs currently in place, but Whitesell said the goal is for both buildings to fit within the context of DePauw's campus. The funding for the new resident halls will come from a combination of donations and additional financing.
While College Street is described as being "cozy" on DePauw's website, Senior Thomas Shelton, who lived in College Street his first year, said that the building was great for creating lasting friendships and community; however, that was where the positives ended.
"The place (College Street) should have been condemned decades ago," Shelton said.
Other students are not quite as willing to let these dormitories go. First-year Tahj Dosso lives in Hogate and is not that excited about the University's newest construction project.
"Hogate gets a bad rap because of the mold," Dosso said, but personally he enjoys the suite-style layout.
Whitesell said that right now, the priority is planning and ensuring that the transition is as seamless for students as possible so as not to "sour" the student experience.
"We want to provide," said Whitesell, "a solution that we think will be the best solution for the students, the best solution for DePauw."